Georgia Attorneys for Whiplash Suffered in Car Accidents
Whiplash is one of the most common injuries people experience during a car accident. In fact, more than two million Americans suffer from whiplash every year. The damage happens in seconds, but it can take weeks or months to recover. Treatment costs can add up quickly with frequent chiropractic or physical therapy visits, and you may need to miss work while you are recovering.
If you sustained whiplash in an accident that was caused by someone else's negligence, an experienced attorney will be able to assess all of your expenses and losses and help you pursue financial compensation. The Georgia car accident attorneys of Jonathan R. Brockman, P.C. help car accident victims with whiplash recover compensation on a regular basis. We understand the complexities of the legal system and have the skills necessary to fight insurance companies for the compensation you deserve.
Contact Jonathan R. Brockman, P.C. today at (770) 205-8827 for a free consultation.
Why You Need a Lawyer
After a car accident, some people who experience whiplash may feel like they can get by without an attorney, only to lose money in the end. Treatment for even minor whiplash can take longer and be more expensive than you initially realized. The other driver's insurance company may claim you were partially or fully at fault, which would decrease or eliminate your eligibility for compensation under Georgia law.
When you have an experienced attorney on your side, they will be able to anticipate some of these circumstances so you can make proactive decisions that will increase your chance of obtaining compensation. Our attorneys have experience gathering the type of detailed evidence necessary to prove your case. We also realize that your expenses go beyond just medical expenses and missed wages, and we will build a case to request compensation for all of your losses, even those that are harder to quantify.
Why Choose Us?
At Jonathan R. Brockman, P.C., treating our clients with respect and compassion is our top priority. We take the time to get to know you and the unique circumstances of your case. Although whiplash injuries are common, no two situations are the same. By getting to know you as a person, we will gain a better understanding of how your injury has affected you and the best ways we can help.
Each of our attorneys has received recognition for their excellence from organizations such as Martindale-Hubbell and Super Lawyers. Our attorneys are seasoned professionals, and each has at least two decades of experience fighting for the rights of accident victims. We operate on a contingency basis, which means you will not owe us anything unless we successfully secure compensation on your behalf.
How Does Whiplash Occur?
Whiplash occurs when your neck quickly bends forward and backward, or backward and forward, thus putting significant strain on muscles, tendons, and discs. Many people do not realize that whiplash can occur even at low speeds under ten mph. While speed can increase the severity of the injury, the biggest impact on the severity of the injury is whether the victim was properly restrained. Wearing a seatbelt and ensuring children use a proper car seat or booster seat plays a large role in preventing severe whiplash.
Symptoms of Whiplash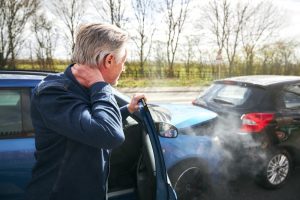 Sometimes accident victims notice the symptoms of whiplash immediately after an accident, but at other times, they can take hours or days to develop. The initial shock and adrenaline burst following an accident can also mask pain so you do not notice it until later. Some potential symptoms of whiplash include:
Neck pain or stiffness
Shoulder pain
Lower back pain
Dizziness
Arm or hand pain or numbness
Ears ringing
Blurry vision
Trouble concentrating or memory problems
Irritability
Trouble sleeping
Tiredness
Even if your symptoms are mild, it is still important to visit a doctor after a car accident. Not only will they be able to catch any problems that you have missed, but your medical records will also become part of the paper trail that will be essential in recovering compensation for your injuries.
Proving Your Case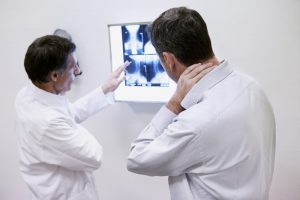 In order to receive compensation for your injuries, you will need to have a strong case that proves the severity of your injuries as well as that another person was at fault for the accident. Your attorney will help with this but there are some things you can do on your own as well.
One of the first steps in building a strong case is visiting a doctor as soon as possible after your accident. Your medical records will become essential evidence that shows the date your symptoms developed, the severity of your symptoms, and may also provide proof that ongoing treatment is necessary for your recovery.
You will need evidence that someone else was at fault for the accident. You can obtain contact information from witnesses who will testify, photos from the scene of the crash, police records, and more. You should bring as much evidence as you can to your initial meeting with an attorney, but even if you don't have much evidence to begin with, our skilled attorneys will help you gather additional evidence.
Even if you feel like your case is too small to involve an attorney, you may be surprised how much your case is actually worth.
Contact a Georgia Whiplash Injury Lawyer Today
While you are recovering from a whiplash injury, you probably have a lot on your mind. Physical pain, frequent medical appointments, financial stress, anxiety after a traumatic event, and many other factors may leave you feeling overwhelmed. At Jonathan R. Brockman, P.C., we understand everything you have on your plate, and we want to help relieve some of that stress by supporting you through the legal process.
Although we cannot guarantee any specific amount of compensation, our attorneys can sit down with you and discuss what your case may be worth. We can outline the steps to move forward during a free consultation. In that consultation, we will listen to what you are worried about, and make sure all of your questions are answered. We are committed to clear communication with our clients throughout the entire process, so you are never left in the dark about what is going on.
If you are looking for an attorney who will fight hard for you to recover compensation for your whiplash injury, contact the attorneys of Jonathan R. Brockman, P.C. today at (770) 205-8827 for a free consultation.