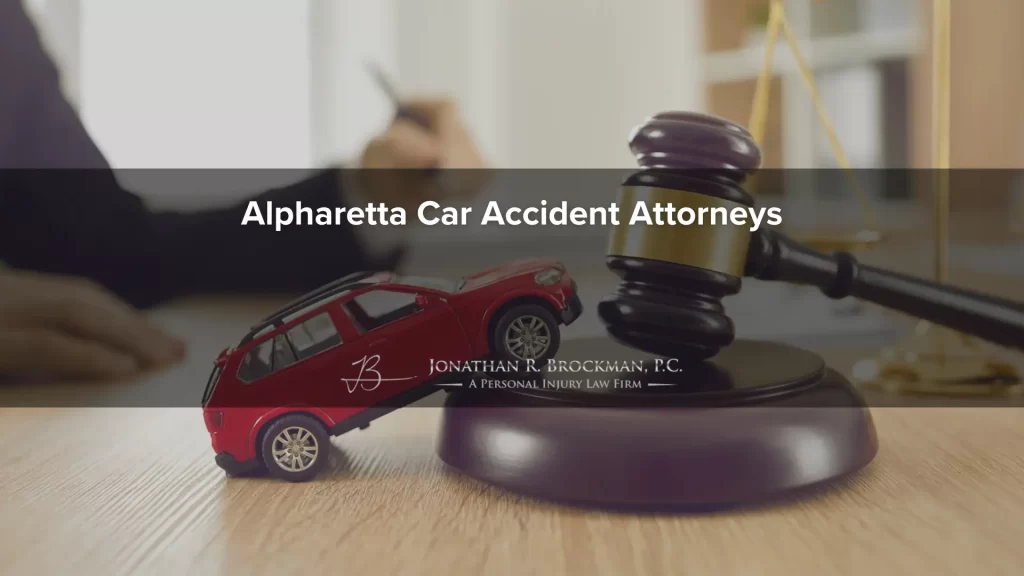 If you were seriously injured in an auto accident in Alpharetta, the car accident lawyers of Jonathan R. Brockman, P.C. could help you get the financial compensation you need to recover.
Unfortunately, accidents happen on Georgia's roadways every day, and while you may practice safe driving habits, what about the driver next to you? Your health, safety, and financial future can be put at stake in a matter of seconds by the actions of a negligent or reckless driver. If that's happened to you, there are legal options available. You could be owed significant compensation for your medical expenses, missed work, and pain and suffering. A reckless driver's actions should never leave you paying their tab.
The experienced legal team of Alpharetta car accident attorneys at Jonathan R. Brockman, P.C. will work diligently to earn you the compensation you deserve following a car accident. If you or a loved one was injured in a car accident in Alpharetta, contact us at 678-213-2401 to schedule a free case evaluation.
"If you are in need of a lawyer for a recent car accident in the Alpharetta area, our team of skilled professionals is ready to go to bat for you. We will put forward our vast knowledge and experience to make sure you get the compensation that you and your loved ones deserve."
Schedule a Free Consultation Today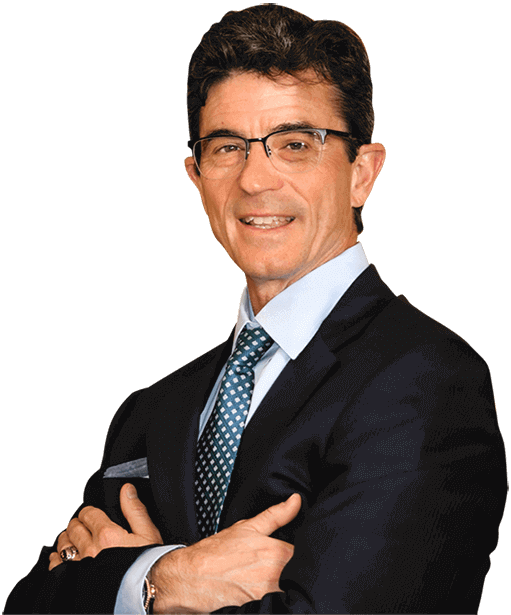 Why Choose Jonathan R. Brockman, P.C.?
The Alpharetta car accident lawyers of Jonathan R. Brockman, P.C. will advocate for your rights and fight hard to reach a favorable outcome in your case. You deserve to hold the at-fault party liable for the harm they caused. Their careless actions led to your injuries, and they should face the consequences. You can depend on our team to keep your interests in mind as we pursue the compensation you need.
Jonathan R. Brockman, P.C. provides personalized attention to every client. We understand how important quality customer service is at a time like this. You deserve one-on-one contact with your car accident attorney. We are available 24/7, so you can reach us whenever you need us. We will make you our priority until the very end of your case.
Our lawyers have received recognition from legal organizations for the representation we provide to our clients. We've received awards and accolades from the Million Dollar Advocates Forum, Super Lawyers, and The National Trial Lawyers. We also hold an AV Preeminent® rating from Martindale-Hubbell and a 10.0 Superb rating from Avvo.
Common Car Accident Cases We Handle
At Jonathan R. Brockman, P.C., we have experience dealing with a wide range of car accident cases. Some of the most common accident cases we handle include:
While this list is long, it isn't exhaustive. If you've been injured in a car accident that wasn't your fault, contact the Alpharetta auto accident attorneys at Jonathan R. Brockman, P.C.. We can review the circumstances of your accident and advise you on your legal options. Call 678-213-2401.
We here at Jonathan R. Brockman, P.C. serve car accident victims and their families in Alpharetta, GA
Types of Injuries Caused by Car Accidents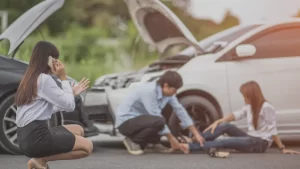 Car collisions can cause serious injuries. All too often, those injuries are fatal. Thousands of pounds of steel hitting each other can lead to catastrophic damage to the drivers and passengers.
Recovering from a serious car accident may take months or years. Some victims can never regain the function they once had, which can change their everyday habits and lifestyle. Such serious consequences require aggressive legal action to seek fair compensation.
One of the myths about car accidents is that minor fender benders don't require medical treatment. Even minor crashes or collisions at slower speeds can have severe consequences.
You might have invisible injuries even if you feel fine immediately following an accident. Symptoms of head trauma, concussion, and spinal injuries may not manifest themselves immediately. Anyone involved in a car crash should seek medical attention immediately for a thorough checkup.
What types of injuries could you suffer following a car accident? That depends on the nature of the accident. While some people are lucky enough to walk about with a couple of cuts and bruises, others may suffer broken bones or brain trauma.
In general, these are some of the more common types of injuries that can result from a collision:
Concussion
Whiplash
Neck and spinal cord injury
Broken bones
Soft tissue damage
Internal bleeding
Chest and rib injury
Burns
Cuts and bruises
These injuries can mean lengthy hospital stays, surgeries, multiple follow-up visits, and physical therapy. Medical treatment is expensive, so costs can quickly add up.
If this has happened to you, contact an attorney to determine how you can get money to cover your car accident bills through a personal injury claim. Victims of negligent car accidents should never suffer long-term financial consequences when hurt by someone else.
At Jonathan R. Brockman, P.C., we help car accident victims recover the compensation they deserve. Insurance companies won't want to pay what they should, but that doesn't bother us. We have the experience and the knowledge to negotiate with insurance companies for your benefit, not theirs. If an insurer is unwilling to negotiate in good faith, we have the trial experience to hold them accountable in an Alpharetta court.
Read more:
Compensation You Could Pursue in a Car Accident Case
Georgia uses the traditional fault system to determine who should be financially responsible after a car accident. That means whoever caused the crash is liable for the victim's injuries and losses.
State law requires all drivers to carry auto insurance with minimum liability limits of $25,000 for bodily injury and $25,000 for property damage. These limits can compensate for the injured party's losses following an accident.
When you file a liability claim, you can seek a settlement to cover your past and future economic, physical, and emotional losses, such as:
Medical bills
Out-of-pocket expenses
Physical impairment or disfigurement
Diminished quality of life
Emotional distress
You shouldn't be responsible for paying for any of these losses when someone else was at fault for your injuries. Jonathan R. Brockman, P.C. and our team of experienced Alpharetta car accident lawyers will work tirelessly to try to recover full and fair compensation from the liable party so you can heal and move forward with your life.
Schedule Free Case Review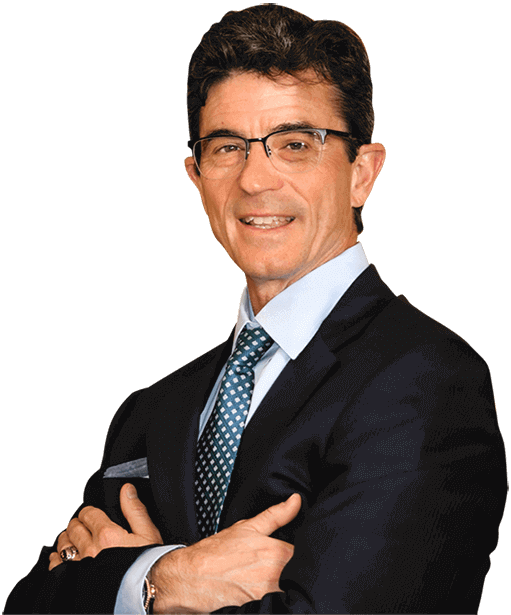 Georgia Car Accident Liability
Georgia follows a "modified comparative negligence" rule for car accidents and personal injury cases. Don't be intimidated by the legal terminology. Modified comparative negligence simply means that a victim can recover losses against any party more at fault for an accident than they were.
In practice, that means that if a victim is 10 percent at fault for an accident and the negligent driver is 90 percent at fault, your final settlement would decrease by that 10 percent. Under this rule, you can't seek compensation for your losses if you're more than 50 percent at fault for causing an accident.
An experienced attorney is important for getting the monetary award you need following a car accident. Our team will defend you from being blamed for an unfair percentage of fault. We want you to get the maximum compensation possible.
We'll review the facts and circumstances surrounding the accident, gather evidence, and build a strong case that proves the other driver was liable for the crash. Let Jonathan R. Brockman, P.C. protect your rights and fight against misleading insurance company tactics.
Are you in need of a lawyer to handle your Alpharetta, GA car accident case? You have options
Contact Us Today
Statute of Limitations on Car Accident Claims
At Jonathan R. Brockman, P.C., we know that the first call you make following a car accident will not be to a lawyer. But the sooner you get an attorney on your side, the better.
The moment a car accident happens, the clock begins to tick. Georgia limits the time you have to file a lawsuit against a negligent driver. If you want to recover losses related to a personal injury case, you have only two years from the crash date to file a civil action in court. This deadline is called the statute of limitations.
The statute of limitations in a wrongful death claim related to a car accident is also two years, but the clock starts running on the date of the victim's death, not the collision date.
Insurance companies are businesses. That means their bottom line is making a profit. Paying large settlements for negligent car accident claims is not in their best interest, so they try not to.
Some companies may offer lowball settlements and intimidate victims into settling for less than they deserve. They may even take advantage of a victim's inexperience with how Georgia's insurance system works for their benefit. The simple fact is that insurance companies look out for themselves. They aren't looking out for you.
Working with an experienced attorney from Jonathan R. Brockman, P.C. means you'll have someone in your corner. We'll work for you, protect your rights, and fight to get you every penny you deserve.
After you choose us, we'll thoroughly review your case, investigate the accident, gather the evidence before it becomes lost or destroyed, and work tirelessly to get you the maximum compensation for your injuries, pain, and suffering.
We are tenacious when taking on the insurance companies and their legal teams because we believe you deserve just treatment and fair compensation after being injured by a reckless driver.
Read more: What NOT to Say to An Insurance Adjuster
Our firm will focus on your case, so that you can focus on your recovery
Car Accident Frequently Asked Questions
The aftermath of a car crash can be overwhelming and disorienting. You probably have questions about the steps you should take in your case. The legal process can be confusing, especially if you've never filed an insurance claim or lawsuit.
We've answered the most common questions below, but it would be best for you to contact Jonathan R. Brockman, P.C. directly so we can advise you about your best options for pursuing compensation and provide the guidance you need.
What should I do if I get hurt in a car accident?
The steps you take after a car crash can impact any case you pursue. It's crucial that you immediately hire an attorney and seek medical treatment. You shouldn't wait too long before your initial doctor's appointment or ER visit. Insurance companies look at gaps in treatment as substantial evidence that your injury isn't real or isn't severe enough to justify a significant settlement amount.
What should I do if the insurance company contacts me?
The at-fault driver's auto insurance representative might mail you a letter or call you on the phone to discuss the case or request that you sign some forms. If that happens, give them our contact information. Do not speak to them about the accident. You might think it's an innocent conversation about the circumstances of your case, but what they're really doing is looking for valid reasons to deny your claim or provide a low settlement offer.
What if the other driver doesn't have insurance?
If you sustained injuries in an accident caused by an uninsured driver, you might still be able to file a claim. Unlike liability coverage, uninsured motorist coverage (UM) isn't required, but insurance companies must offer it to their policyholders. If you chose to include UM on your policy, you could file a claim for compensation for your medical expenses, lost wages, property damage, and pain and suffering.
Contact Our Alpharetta Car Accident Lawyers Today for a Free, No-Obligation Consultation
Are you or is someone you love suffering from injuries related to a serious car crash? If so, you deserve legal protection. You need someone willing to fight to get you the compensation you need to care for yourself and your injuries.
At Jonathan R. Brockman, P.C., our compassionate and dedicated Alpharetta car accident lawyers will remain by your side in the fight for justice. You can depend on us to prioritize your case and be there during this traumatic experience. We will employ all our extensive resources and use our knowledge of state laws to reach a positive outcome in your case.
Don't wait for the other driver's insurance company to offer you money out of the kindness of their hearts. They are rarely on a claimant's side. Their goal is to save money and avoid a large settlement payout. They will likely look for any evidence to show that you were at fault for the crash so they can deny your claim. You need an experienced legal team to ensure no one tries to take advantage of you.
Schedule a consultation with one of the skilled Alpharetta personal injury attorneys at Jonathan R. Brockman, P.C.. Call 678-213-2401 to set up your no-cost consultation today.