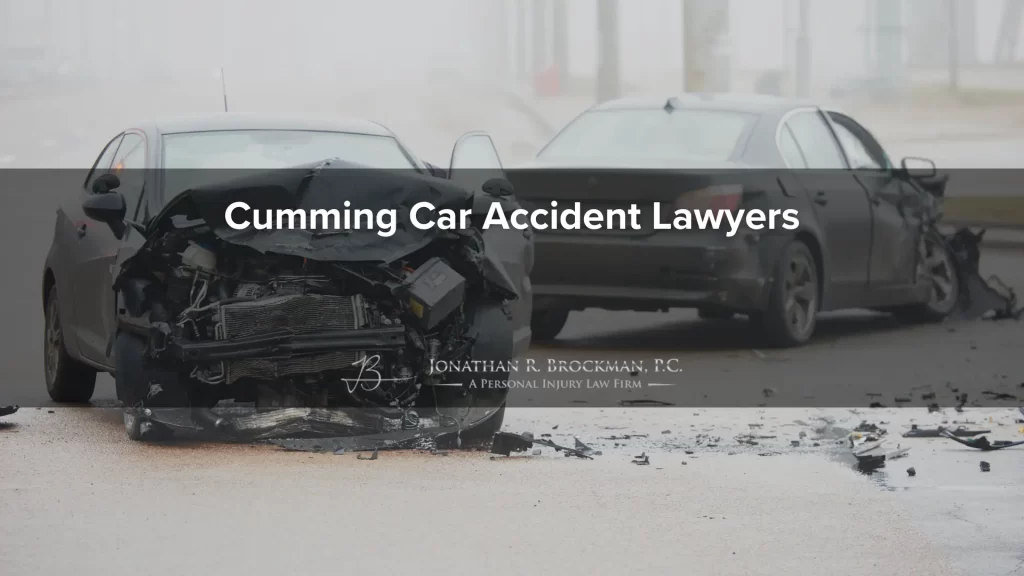 There's no way around it. Car crashes are scary. In a split second, everything changes. It's hard to know what to do next. You may be overwhelmed when you're injured and need to pay for medical treatment on top of other damages. At Jonathan R. Brockman, P.C., our experienced car crash lawyers in Cumming can help.
Jonathan R. Brockman, P.C. understands your burdens because we've worked with many injured Georgians like you. We're ready to be by your side to help you get through it. You can depend on us to fight for the financial compensation you need for your medical expenses, missed work, and pain and suffering.
Insurance companies are notorious for rushing through claims to force injured victims to settle for less than they deserve. They may use intimidation tactics to convince you that the number they offer is fair. Please don't believe them.
Believe the attorney on your side. We won't let them take advantage of you. It's our job to protect your rights and demand the maximum monetary settlement available. Schedule a free consultation with one of our Cumming car accident lawyers today by calling 770-205-8827.
We can help you with a variety of car accidents, including:
Medical Care Is Crucial After a Car Accident
Besides hiring a lawyer to help you with your case, seeking medical treatment should be your top priority. Even if you think your injury is minor, see a doctor for a thorough evaluation.
Some injuries seem superficial, but examinations might reveal internal damage or other invisible medical problems. Shock can mask the pain of a severe injury. You might not realize how hurt you are until days or weeks later. Visiting a hospital or urgent care center should be the first thing you do after leaving the crash site.
Medical records document the injury you suffered and the treatment necessary to recover. If you consistently see your doctors, there should be sufficient evidence that the car accident was the cause of your injury and that the damage was severe enough to justify medical care.
Medical Care and Insurance Claims
Insurance companies sometimes deny claims if the claimant has a gap in treatment. That means the accident victim waited a significant period before getting an initial medical evaluation or followed through on medical advice for a bit, then waited weeks or months before getting treatment again.
Gaps can indicate to the insurance adjuster that the injured victim wasn't really hurt in the crash or didn't require medical care to recover. Either way, they'll use it as an excuse to deny a claim. Remember, you must regularly treat your injury until you heal.
Insurance companies will also review referrals. You should follow their orders if any of your doctors refer you for imaging or treatment with a specialty provider. If you ignore their instructions, the insurance company might assume your symptoms aren't real or your injury isn't as bad as you claimed. They care about their bottom line, so they'll use the excuse to deny your claim or provide a low settlement offer.
Read more:
Why Eyewitnesses Can Strengthen Your Case
When someone is clearly at fault for a car accident, the injured victim has a better chance of collecting the largest possible insurance settlement. Sometimes it's more complicated than that. If there's any doubt about who caused it or if you share some blame for the crash, you could end up with less compensation than you deserve.
Witnesses provide solid evidence of the fault for an accident. Instead of relying on memory, speak to anyone who saw what happened and write down their names and numbers before leaving the crash scene. If you can't, your Cumming car accident lawyer can track down witnesses for you.
Determining fault is necessary because Georgia follows a traditional fault system. That means the person who causes the accident is automatically financially responsible for the resulting injuries and damage. Instead of paying out of pocket, their auto insurance company usually pays the injured party for their medical costs and other expenses associated with the accident.
Read more: The Importance of Witnesses in Your Personal Injury Claim
The Crash Report Might Contain Relevant Information
You should call 911 to report the car accident, even if your injury is minor. A police report could strengthen your insurance claim. Wait at the scene for emergency responders to show up and perform an investigation. They'll look at relevant evidence and speak with witnesses and everyone involved in the crash.
After investigating, they'll write a traffic crash report. This report usually includes the details your lawyer can use, including:
Date, time, and location of the accident
Names of all parties involved in the crash, contact information, insurance details, and vehicle information
Eyewitness names and phone numbers
Type and location of damage to all cars
Diagram depicting the events of the accident
Description of how the accident occurred
Traffic citations issued
Determination of fault
Your attorney can request and submit the report with your personal injury claim.
Read more: How to Collect Evidence at the Scene of an Accident
The Insurance Adjuster Isn't Your Friend
Insurance companies want to save money no matter what. They have to do it. But they don't want to pay out claims. They'll try to minimize the payment if they have to offer a settlement.
If you don't have a Cumming car accident lawyer, you might not know the maximum amount you deserve. Insurance companies will take advantage of claimants who didn't seek legal representation by intimidating them into accepting a low settlement. Jonathan R. Brockman, P.C. won't let that happen to you.
If their initial offer isn't sufficient, we'll turn it down and provide the insurance company with a counteroffer. If evidence indicates the other driver was at fault and you suffered injuries from the crash, we can demand the maximum compensation available.
When you hire Jonathan R. Brockman, P.C., your attorney will take care of each step of the process. We'll file the insurance claim on your behalf, complete all the paperwork, perform an investigation, submit evidence, and negotiate a settlement.
You don't have to argue with insurers alone. We'll work hard to get you a fair settlement that covers your expenses. You can focus on recovering from your injuries.
Read more: What NOT to Say to an Insurance Adjuster
Lawsuits Must Meet a Statute of Limitations
A statute of limitations is a strict deadline accident victims must follow to pursue financial compensation from the person who caused their injuries. In Georgia, the statute of limitations for car accidents is two years.
That means you have two years from the crash date to file a lawsuit against the at-fault driver. If you miss the deadline and try to file anyway, the judge may dismiss your case.
Most people attempt to recover compensation from an insurance claim before resorting to a lawsuit. Claims can take a long time, so begin your case by contacting a lawyer immediately to protect your right to demand compensation.
Under particular circumstances, the deadline could be delayed by stopping the clock. These include:
If the injured victim is a minor, the statute won't begin until they turn 18.
If the injured victim is mentally incompetent, the statute won't start until they become mentally competent.
If there's a pending criminal case against the at-fault driver for the car accident, such as a DUI charge, the statute won't begin until the case concludes.
The Difference Between Compensatory Damages and Punitive Damages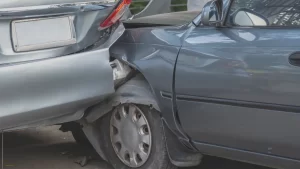 Compensatory damages are the total expenses and losses an accident victim suffers because of another person's negligence. They include both economic and non-economic damages.
You can seek this form of compensation, whether you file an insurance claim or a lawsuit.
Examples of economic and non-economic damages you could pursue include:
Medical expenses
Pain and suffering
Lost income and benefits, including future earnings
Property damage
Emotional distress
Inconvenience
Loss of companionship or consortium
When you meet with a Jonathan R. Brockman, P.C. Cumming personal injury attorney, we'll discuss the details of your crash and injury. When we fully understand your circumstances, we'll look for evidence of the damages you suffered. We'll calculate everything you've spent because of the injury, everything you can reasonably expect to spend because of the crash, and the money you lost due to treatment and recovery. Then we'll demand the at-fault party's insurer pay it.
Punitive damages are entirely different. They don't compensate the injured party for their economic and non-economic damages. Instead, they aim to punish the liable party for their actions and deter similar behavior in the future. They're also only available in a lawsuit.
Punitive damages are only available in specific situations. There must be clear and convincing evidence that the driver who caused the accident displayed malicious, grossly negligent, egregious, reckless, or wanton acts. For example, if the other driver was under the influence, you might receive compensation for punitive damages.
Contact Us
At Jonathan R. Brockman, P.C., our Cumming car accident lawyers understand the suffering the reckless driver who hurt you caused. It's a long road to recovery, so we want to help you win the financial settlement you deserve.
Our legal team will fight hard to seek just compensation for your injury and hold the other driver responsible for their careless actions. You can depend on us to work diligently until we resolve your case.
If you were the victim of a car accident in Cumming, call us at 770-205-8827 today. We'll schedule a free initial consultation to discuss the details of your injury and determine your legal options.