Milton Personal Injury Lawyer
If you have been injured due to someone else's negligence, you may be owed compensation for your injuries. Every day, we trust other people's decisions on the roads, in medical settings, while using various products, and more. When someone acts negligently, they can put others in danger and cause significant harm.
Car accidents are the top cause for personal injury claims, and in 2020, there were 436 vehicle accidents in Milton alone, 79 of which involved injuries, according to the Milton Police Department. Whether you were injured in a car accident or any other situation, the responsible party should be held accountable for the injuries that occurred as a result of their negligence.
The Milton personal injury attorneys of Jonathan R. Brockman, P.C. can help you pursue compensation for your injuries. Contact us today at (770) 205-8827 for a free consultation.
Why You Need a Lawyer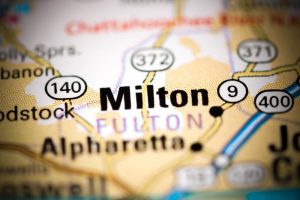 It is possible to file a personal injury claim on your own, without the assistance of an attorney, but it is not recommended. Insurance companies often take advantage of the general public's lack of knowledge about legal matters and may offer you a settlement that is much less than what you actually deserve. Additionally, one poorly worded statement, a missed deadline, or a form filled out incorrectly could seriously jeopardize your ability to recover compensation.
Our attorneys understand the big picture of the legal process and we will help you put all the pieces together to build a strong case. An experienced personal injury attorney also will be able to help you understand how Georgia law applies to your situation. For example, if you are partially at fault for an accident, you may still have a case even though your compensation may be reduced.
Why Choose Us
The attorneys of Jonathan R. Brockman, P.C. have been helping injury victims recover compensation in Georgia for over 30 years. Our team is known for being compassionate, assertive, and hardworking. Our results speak for themselves, as we have won cases and reached settlements ranging from a few thousand dollars to multi-million-dollar cases.
Each of our attorneys has a substantial career record of successfully securing compensation for our clients. Our attorneys have been recognized by prestigious organizations such as Super Lawyers, Martindale-Hubbell, the Million Dollar Advocates Forum, and the Multi-Million Dollar Advocates Forum. This puts us among the top one percent of attorneys nationwide.
Although we have handled hundreds of cases over the years, we limit our caseload at any given time to ensure we can give you the full time and attention you deserve. Our attorneys strive to treat our clients like family, and we know that this relationship is our greatest reason for success. By gaining a full understanding of the details surrounding your accident and the hardships you are facing due to your injury, we are better equipped to create a strong case as we pursue compensation on your behalf.
Cases We Handle
Our firm has experience handling a wide variety of cases including:
Even if you feel like your case is too small to involve an attorney, it may be beneficial to start with a free consultation. There may be major legal aspects that you are overlooking, and you may be owed more than you realize. Our attorneys will help you have a clear understanding of your options so you can make an informed decision about how to move forward.
Types of Compensation Available
The amount of compensation you are owed will depend on several factors, including the severity of your injuries and the other impacts the injury has had on your lifestyle. In general, you may be owed compensation for:
Mental anguish
Long term care or rehabilitation
If your loved one was killed due to someone else's negligence, under Georgia law, the surviving spouse, child, or parent may be able to file a wrongful death lawsuit to recover costs for the funeral and burial expenses, loss of the deceased person's wages, and other costs associated with their death.
Although we cannot guarantee any specific results, our attorneys will be able to help you get a general idea of what your case may be worth during a free consultation.
Do I Have a Case?
Not everyone who is injured will have a viable personal injury case. In order to receive compensation for your injuries, you will need to prove that someone else had a responsibility to keep you safe, that they breached that responsibility, and that your injuries were a direct result of their negligence.
For example, in a car accident involving an intoxicated driver who broke multiple traffic laws, you would need to have clear documentation of your injuries, as well as evidence that the other driver was under the influence and broke laws. In a medical malpractice case, you may need to prove that a doctor did not follow the correct protocol for a surgery, or that a pharmacist gave you the wrong prescription, and that those mistakes directly caused harm to you.
Fortunately, you don't have to figure this out on your own. If you suspect that you may have a personal injury case, you can share the details with us during a free consultation and our attorneys can help you understand your legal options.
Contact a Milton Personal Injury Attorney Today
Sustaining an injury is stressful, no matter how it occurred. When that injury could have been prevented if someone had followed the rules or used better judgment, it is even more frustrating. You may be feeling angry, betrayed, and overwhelmed. What you are going through is not fair, but the attorneys at Jonathan R. Brockman, P.C. are here to help you find justice during your time of suffering.
The legal process can be lengthy and complicated, which is especially difficult when you are already dealing with so much. Our attorneys are committed to making the process as comfortable as possible for you, so you can focus your energy on recovering from your injuries.
Contact us today at (770) 205-8827 to schedule a free consultation.