What Is the Difference Between Car and Truck Accidents?
Posted on Wednesday, October 20th, 2021 at 6:02 pm
Car versus truck collisions are usually much more traumatic than car versus car crashes because the force of the impact often results in more death and serious injuries. Car/truck accidents are also a lot more complex because they require the party seeking recovery to prove how the accident happened, which of a variety of potential parties was at fault, and how much insurance money may be available. The trucking company, the driver, and their insurance companies are going to make you work for every dollar you might get, so buckle up and be prepared for a long ride.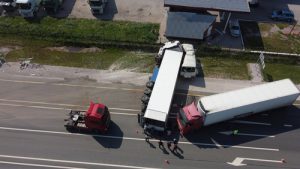 Nearly 40,000 people died in transportation-related accidents in 2019, and more than 2.5 million people suffered significant injuries. More than 80 percent of the fatalities occurred on highways, which is the most likely location where car versus commercial truck collisions occur. There are 6.2 million commercial truck drivers in the United States, and they only make money when they are driving, so chances are good they will be out on the road at any hour of the day or night, in bad weather and traffic conditions, and generally in a race against time to make a delivery. A 60,000 lb. 18-wheeler going 65 mph destroys virtually everything in its path when a collision occurs. Truck/car collisions routinely result in death or catastrophic injuries for the car driver and passengers. In short, in a car and truck collision on the highway, the car never wins.
In traditional car accidents, state and local rules govern the aftermath of the crash and how negligence and fault are determined. Commercial trucks operate across multiple states, so there may be an entirely separate set of rules that apply to their conduct. For example, the federal government develops rules for truckers that apply all over the country on any interstate highway. If the truck driver fails to comply with these requirements, that violation can be used in court as evidence that the truck driver was at fault.
In your typical fender bender car on car accident, the first officer on the scene likely will make a liability determination on the spot. In car versus truck accidents that occur on the highway, however, each side likely will have at least one expert witness who tries to reconstruct what happened during the accident. Here are some issues to watch out for when deciding whether to file a lawsuit against the truck driver and/or his company:
Trucking firms and their insurers have teams of lawyers, investigators, and experts on speed dial and get their people on the scene before the injured parties even make it to the hospital.
Many commercial trucks have a "black box" in them (like they have in airplanes) that automatically records data about what the driver did in the moments right before and during the accident. This could be important information your expert witness can use to help prove the truck driver was at fault.
An experienced truck accident attorney knows how to cut through red tape to obtain police reports, FMCSA reports, and other key documentation, including the black box data.
Trying to get the trucker's insurer to pay your claim may be almost as traumatic as the accident itself. When you crash into another driver in the grocery store parking lot, you and the other driver exchange insurance company information. Your insurance companies will slug it out, and you just await the outcome. In car versus truck collisions, however, the trucker, his employer/boss, and the insurance companies are going to fight tooth and nail every step of the way. You need to be aware that:
The CDL driver may have one form of insurance, and the company that actually owns the truck may have a different type of insurance; neither insurer will want to pay your claim.
The trucking company and its insurer aren't looking at the accident the trucker had with you in isolation. The trucking company may own 20 other trucks or 1,000 other trucks out on the road, so they are going to fight every claim.
The driver, trucking company, and insurers will drag out the process, hoping you will wear down and take a low-ball offer. You have to be patient and fight for your right to the compensation you deserve.
Obtaining a recovery against a commercial truck driver is hard work. The attorneys at Jonathan R. Brockman, P.C. have the skill set and tenacity to hold the responsible party to account. Call us today at (770) 205-8827 or visit our website to get started.