Jonathan R. Brockman, P.C. Featured on the Cover of Super Lawyers Magazine
Posted on Friday, March 3rd, 2023 at 9:44 am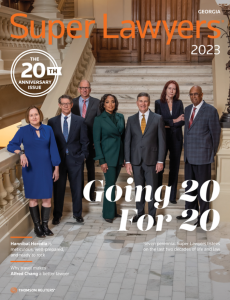 Jonathan R. Brockman, P.C. was very proud to be chosen as the cover feature for the 2023 Georgia edition of the Super Lawyers Magazine.
At the personal injury firm of Jonathan R. Brockman, P.C., every client is important to our team of experienced trial lawyers. Our lawyers use their outstanding litigation skills and decades of trial experience to obtain the best result for each client.
We are proud that a large part of our continued success is referrals from former clients and other lawyers. From the multimillion-dollar wrongful death cases to the soft tissue injury car wreck cases, our lawyers work every case with a strategy aimed at achieving the best result which we believe is directly reflected by our many referrals. "I was referred to Jonathan R. Brockman, P.C. and it was the best call I ever made. Success requires hard work, and these lawyers worked hard to obtain a great result for me on a difficult case, "said Amie A., a firm client.
Offices in Atlanta, Cumming, Alpharetta, Fayetteville and Carrollton.