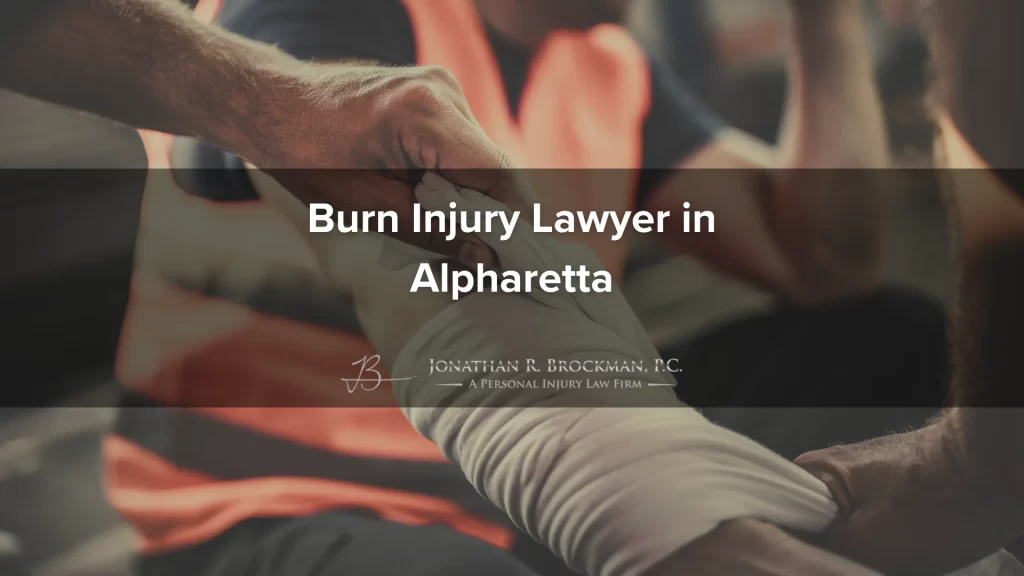 You may be eligible for compensation if you've sustained burn injuries in or near Alpharetta, GA. You might have this option if your injuries are work-related or resulted from someone's negligence or wrongdoing. You don't have to burden yourself with the process of seeking compensation from an insurance company by yourself. Hire a burn injury lawyer in Alpharetta instead and let them handle every aspect of your claim while you focus on healing.
At Jonathan R. Brockman, P.C., we offer personal attention, and you won't be just another case when you hire us. We focus on tailoring our approach to the specific details of your case and getting you the most compensation possible. Call us today at 678-213-2401 or contact us online to schedule your free case review with an Alpharetta personal injury lawyer.
Types of Cases That Often Include Burn Injury Components
The burns you could sustain in fire accidents and similar incidents come in various forms. Common types of burn injuries include electrical burns, chemical burns, and boiling or hot liquid burns.
Burn injury cases often overlap with other types of cases a personal injury attorney might handle. Examples include:
Burn injuries can also vary in severity. Mayo Clinic's classifications of burns include:
First-degree burns: A first-degree burn only affects the skin's outer layer and will cause pain and redness.
Second-degree burns: These burns affect the top skin layer and the one directly below. They often result in some pain and swelling, and the skin may be red, white, or blotchy. These burns may result in scars.
Third-degree burns: A third-degree burn goes all the way to the fat layer under the skin. The skin can be black, white, or brown, and leathery. The victim may not feel pain because these burns destroy nerves. 
Fault and Liability in Burn Injury Cases
You may seek compensation for various losses and difficulties resulting from your burn injuries if someone else's actions or carelessness harmed you. Your lawyer will review your case to determine whether someone else caused your injuries. Some possibilities might be:
Another driver, if you sustained burn injuries in a car accident they caused
A property owner, if you were burned in an accident caused by a hazardous condition on someone else's property
The designers, manufacturers, or marketers of a defective product when burn injuries result from the use of dangerous products
In some instances, you may deserve compensation for burn injuries even if your accident didn't result from anyone's negligence. For example, perhaps you sustained burn injuries while working at a construction site. If you were someone's employee when you were injured, you can file a workers' compensation claim. You don't need to prove that your injuries resulted from negligence to qualify for workers' compensation benefits.
Average Settlements in Burn Injury Cases
Because all cases are different, there can be no "average" settlement amount for burn injury cases. Various factors can influence the value of your case, including:
The severity of the injuries
The cost of medical treatment
Amount of lost wages during healing
Pain and suffering
Whether a jury or judge awards punitive damages at trial
How a Lawyer from Jonathan R. Brockman, P.C. Can Help You With Your Case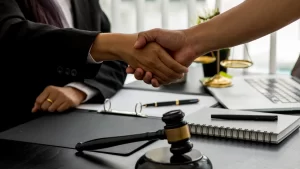 Seeking compensation after sustaining burn injuries can be a complex process. At this time, you may not wish to add to your responsibilities by attempting to secure compensation on your own.
You don't have to. At Jonathan R. Brockman, P.C., a burn injury lawyer in Alpharetta may assist you by:
Reviewing your case
Explaining whether you're eligible for compensation
Investigating your accident
Determining who is liable
Completing and submitting claim paperwork
Corresponding with the insurance company on your behalf
Deciding whether a settlement offer is fair
Our goal is to fight for the settlement you deserve. Sometimes, the insurance company refuses to offer a fair settlement. We're prepared to represent you in court if this happens.
Legal Fees in Burn Injury Cases
You may worry you can't afford to hire a burn injury lawyer. Adding legal fees to your medical bills and other such expenses may seem to be an unreasonable financial risk. You don't have to worry about these issues when you hire Jonathan R. Brockman, P.C.. We use contingency fee agreements when taking new cases on.
A contingency fee agreement ensures you don't have to pay upfront legal fees. Our fee is an agreed-upon percentage of the compensation we win for you. If you don't get paid, neither do we.
Contingency fee agreements also incentivize attorneys to fight for the best settlements they can get. The more we earn for our clients, the more we earn.
The Personal Injury Process: FAQs
If you still have questions about your case and personal injury cases in general, we've answered some additional questions for you here:
How long does it take to resolve a personal injury case in Alpharetta, GA?
There is no average length of time for a personal injury case. It's possible to resolve some cases in as little as three to four months. However, some cases take more than two years to resolve. You don't want to rush a case if it means accepting much less than you deserve.
What is the deadline for filing a burn injury claim in Georgia?
The statute of limitations in Georgia allows a two-year period from the date of your injury to take legal action. Meet with a burn injury lawyer as soon as possible so you don't miss this deadline and lose your right to pursue compensation in court.
How should I prepare for my initial consultation with an Alpharetta burn injury lawyer?
Bring documentation of your medical bills, lost wages, and other such losses with you to your consultation. Bring any evidence about the accident or your injuries (such as photos or witness statements) as well.
You can still have a productive meeting with a burn injury lawyer if you have no documentation to bring. At the very least, write down what happened so you can remember the details during your meeting. Be as accurate and thorough as possible.
Contact a Burn Injury Lawyer in Alpharetta
Focusing on your recovery should be your priority after sustaining burn injuries. At Jonathan R. Brockman, P.C., our compassionate attorneys make doing so easier by handling all the details of your case. To learn more about what our Alpharetta burn injury lawyers can do for you, contact us online or call us at 678-213-2401.