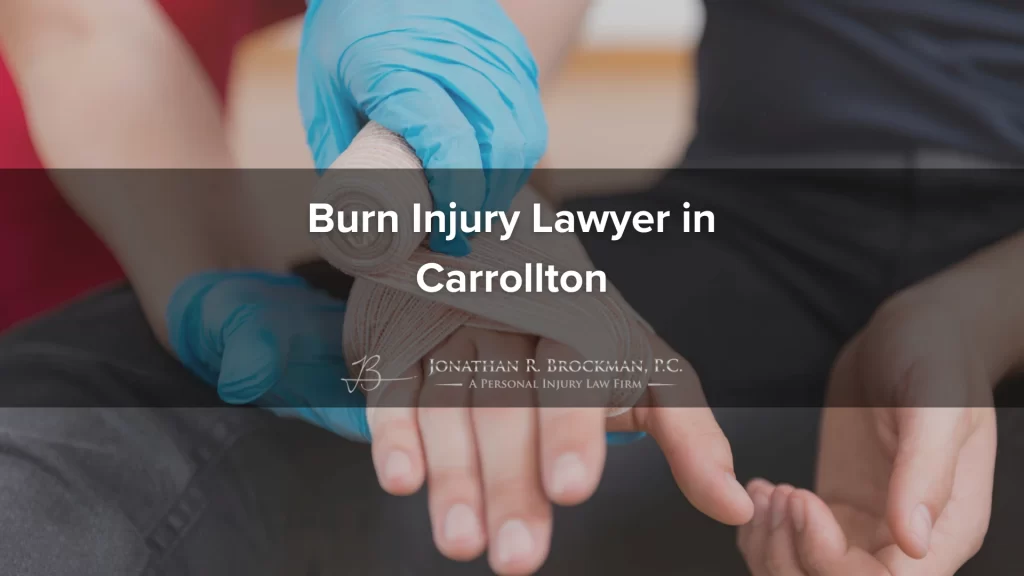 If you sustained significant burn injuries in an accident, your life has probably been overturned. You may now be facing mounting bills for medical treatment, lost wages, physical pain, and more. You don't have to struggle through this difficult period alone.
A Carrollton burn injury lawyer from Jonathan R. Brockman, P.C. can take on the burden of your case while you focus on healing. We can discuss the compensation you're owed if someone else caused your injuries. We'll handle the details while you recover.
Schedule your free case review today by calling us at 770-205-0933 or contacting us online to learn more from a Carrollton personal injury lawyer. We'll talk about the details of your case and advise you about the best way to proceed.
Types of Cases That Could Include Burn Injuries
Certain types of personal injury cases may be particularly likely to involve victims with burn injuries. Common examples include:
According to the Cleveland Clinic, the classifications of burn injuries are:
First-degree burns: A first-degree burn only affects the skin's outer layer. Such a burn is usually about as severe as a sunburn.
Second-degree burns: Second-degree burns affect the top layer of skin and the one directly beneath. These burns usually swell, blister, or turn red, and they are painful.
Third-degree burns: A third-degree burn is one that burns away or substantially damages the outer layer of skin, the layer beneath, and the fat layer. Third-degree burns are usually painless because they damage the nerves. Skin may be red, black, or white and leathery. 
Burns don't have to involve fire. Chemical burns, electrical burns, and hot liquid burns are just a few other types of burns a person could sustain.
Fault and Liability in Burn Injury Cases
In a personal injury case, you must prove your burn injuries resulted from someone else's actions or carelessness. Potentially liable parties include:
Motorists
Property owners
The manufacturers, designers, or marketers of dangerous/defective products
Any party responsible for your care, such as a doctor or medical facility
You may not need to prove negligence if your accident was work-related. In Georgia, you may be eligible for workers' compensation benefits if you were injured while working. When filing for workers' compensation, you only need to show your accident happened while you were performing your duties as an employee.
It's still wise to enlist the help of a burn injury lawyer when filing a workers' compensation claim. A lawyer can handle all major tasks associated with your claim. If the insurance company attempts to deny your claim or offer less compensation than you deserve, your attorney can fight for the benefits you're entitled to.
Average Settlements in Burn Injury Cases
Because every case is based on a variety of different factors, there is no such thing as an "average" settlement. Besides, no burn injury lawyer can guarantee you'll receive an exact sum of money for your case.
Some factors that may influence your case's value include:
The severity of your injuries
The duration of the healing process
Your medical treatment
Lost wages
How a Lawyer from Jonathan R. Brockman, P.C. Can Help You With Your Case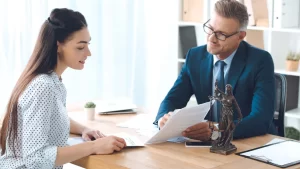 You don't need to handle such tasks as completing paperwork and negotiating with the insurance company on your own. Instead of adding to your burdens at this time, hire an attorney to represent you.
Our Carrollton burn injury lawyers may help you in the following ways:
Reviewing your case for free and explaining your legal options
Identifying the liable parties
Gathering evidence
Calculating the possible value of your claim
Submitting a thorough claim
Negotiating with the insurance company for a fair settlement
Determining whether you need to seek compensation in court
Hiring a burn injury attorney also gives you peace of mind. You may be better able to focus on your health if you know a lawyer is handling your case.
Legal Fees in Burn Injury Cases
We don't charge any upfront fees at Jonathan R. Brockman, P.C.. Instead, we enter into contingency fee agreements with our clients.
The contingency fee model ensures that a client isn't taking a financial risk when hiring an attorney. Rather than charging for our services when you hire us, we only charge legal fees if we win your case. If you don't receive compensation, you don't have to pay us any fees.
Our goal is always to pursue the total amount of compensation for which you're eligible. With a contingency fee agreement, our fee is an agreed-upon percentage of the compensation you receive. Such an arrangement further incentivizes a burn injury lawyer to aggressively pursue a fair settlement.
Personal Injury Claim FAQs
The following are answers to additional questions you may have about personal injury cases:
How long will it take to resolve my case?
There's no universal answer to this question. Some cases only take a few months, while others take more than two years. Our Carrollton burn injury lawyers are willing to devote as much time as necessary to securing the compensation you deserve.
How long do I have to file a claim or lawsuit for burn injuries in Georgia?
You have two years from the accident date to file a lawsuit against the at-fault party if your burn injuries resulted from someone's negligence. You have one year to file a workers' compensation claim.
How should I prepare for the case review?
Prepare for a case review with a Carrollton burn injury attorney by writing down your memory of the accident. Include all the details. You may refer to this write-up when discussing your case with a lawyer.
You might also have medical bills, receipts, or evidence of negligence that you have already gathered. Bring these with you to your case evaluation, as well.
Contact a Burn Injury Lawyer in Carrollton
Adjusting to life after sustaining burn injuries can be a complex process. At Jonathan R. Brockman, P.C., our Carrollton burn injury lawyers may simplify your life by providing the representation you need to get the compensation you deserve. Get started today by contacting us online or calling us at 770-205-0933 to schedule your free case review.