Georgia Car Accident Amputation Attorneys
Losing a part or all of a limb is one of the worst injuries someone can suffer in a car accident. No matter what body part is amputated and how much of the original limb is left, an amputation fundamentally changes how you interact with the world. Adjusting to life without a limb is a challenge, even with a prosthetic, and the cost of treatment can be exorbitant.
If you have had a limb amputated after a car accident that wasn't your fault, you have the right to seek fair compensation for your injuries. The Georgia car accident lawyers of Jonathan R. Brockman, P.C. have more than 70 years of experience upholding the rights of accident victims. Our skills and determination have helped us recover millions in compensation for our clients. With our help, you can seek compensation for the cost of a prosthetic, your medical bills, your pain and suffering, and more. Get a free consultation today by calling (770) 205-8827 or visiting our contact page.
Car Accident Amputation Statistics
Amputations after a car accident are much more common than many people think. According to the Amputee Coalition, there are approximately 185,000 amputations every year in the United States, and there are around two million people across the country who are living with limb loss.
Research also shows that motor vehicle accidents are one of the primary causes of amputations. According to one study in the journal The American Surgeon, about 51 percent of all traumatic amputations are the result of motor vehicle accidents. The study also found that car accident victims were more likely to have an upper limb amputated than a lower limb (55 percent vs. 45 percent, respectively). On the other hand, motorcycle accident victims and pedestrians were both more likely to need a lower limb amputated than an upper limb.
If you have pressing questions about your case, reach out to us today.
Types of Amputations
Not all amputations are the same. If some of the limb remains after an amputation, it is known as a partial amputation. Losing an entire limb is known as a complete amputation.
Additionally, amputations can also be classified according to the nature of the traumatic injury. Using this system, the three types of amputations are:
Sharp amputation — A sharp amputation is when a traumatic injury creates a "smooth cut," which means there are well-defined edges to the affected area. The well-defined edges of a sharp amputation often make it easier to reattach a limb or attach a prosthetic.
Crush amputation — A crush amputation is when a heavy object lands on a limb or the object slams against a limb. Crush amputations are most common after heavy machinery accidents, though they can occur after car accidents as well. The extensive damage to muscle tissue and bones involved in a crush amputation makes it more difficult to reattach a limb or attach a prosthetic.
Avulsion amputation — An avulsion amputation is when a limb is forcibly overstretched in some manner. This is most common when someone gets a limb caught in moving machinery, but it can also occur as a result of a car accident. Avulsion amputations, like crush amputations, make it difficult to reattach a limb or attach a prosthetic because of the heavy damage to bones and muscle tissue.
What to Do If You Have a Damaged Limb After a Car Accident
If one of your limbs has been badly damaged in a car accident, it is important to get to a doctor right away. These injuries can be fatal if they are not treated quickly, and your chances of having your limb reattached are higher the sooner you get treatment.
Once you have sought medical treatment, be sure to hold on to all your medical records and bills. Your medical records can be used as proof of your injuries in a personal injury lawsuit, while your bills are evidence of the financial cost of your amputation.
We also recommend starting a diary or journal after a major car accident. By writing down how your recovery is progressing and how your lost limb has affected your daily life, you can increase your chances of recovering compensation for your pain and suffering.
Finally, talk to a lawyer as soon as you can after the accident. Having a limb amputated is a devastating loss, and you deserve a chance to hold the negligent driver liable for your injuries. Talking to a lawyer right away gives them more time to build your case and increases your chances of recovering maximum compensation for your injuries.
Compensation Available for an Amputated Limb
Losing a limb is an injury that will profoundly affect your daily life. You may be unable to work after having a limb amputated, and you may also be unable to take part in activities you used to enjoy. There are also the financial costs to consider, such as your lost income, the cost of your medical treatment, the price of a prosthetic, and so on.
By working with an experienced Georgia car accident lawyer, you can file a personal injury lawsuit against a negligent driver and seek compensation for: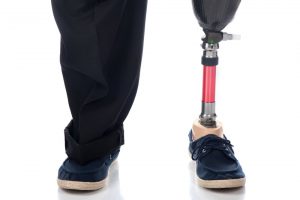 Medical bills, including the cost of future care
The cost of a prosthetic
Lost wages while you were recovering from the accident
Your lost earning capacity
The cost of any home renovations you may need to accommodate your disability
The cost of a wheelchair or other assistive device
Pain and suffering
Emotional distress
Physical impairment and disfigurement
How Long Do You Have to File a Lawsuit After Losing a Limb?
In most cases, you have two years from the date of a car accident to file a personal injury lawsuit against any liable parties. You do not want to miss this deadline, as doing so will leave you unable to recover any compensation for your injuries.
Contact a Georgia Amputation Attorney Today
Losing a limb is a catastrophic injury, and it is only fair to seek compensation for your injuries if you lost a limb due to someone else's negligence. The Georgia amputation attorneys of Jonathan R. Brockman, P.C. want to help if you have lost a limb in a car accident. Contact us today by calling (770) 205-8827 or visiting our contact page.