Posted on Monday, November 1st, 2021 at 2:30 pm
Anytime we travel on a road or highway, we're likely to pass several tractor-trailers. We may tend to not give a second thought to these massive commercial vehicles and their drivers transporting goods from state to state. But if the unfortunate happens, and you're involved in an accident with a tractor-trailer due to no fault of your own, the consequences can be devastating. Not only may drivers and passengers suffer severe injuries in a truck accident, but those injuries can even be fatal.
After sustaining injuries in a truck accident, you'll be searching for answers as to how this happened to you. If you hire a truck accident attorney, they'll be looking for answers on your behalf about how the truck driver's actions caused your injuries. One of the first pieces of evidence that may contain proof of the truck driver's negligence, and that your truck accident attorney will seek to obtain, is the truck driver's travel log.
The Trucking Industry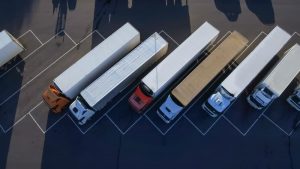 Trucking in America is a billion-dollar industry, given the high demand for America's interstate transportation of goods. Because of this demand and the trucking industry's indispensability to commerce, truck drivers spend their working days driving hundreds of miles at a time. Truck drivers have to take care and use caution when operating their commercial vehicles just like regular drivers in passenger vehicles have to. Tractor-trailers can weigh up to 80,000 pounds when they're fully loaded. Because they're considerably larger than coupes, sedans, crossovers, and SUVS, they pose an increased risk to the occupants of the smaller vehicle in a collision.
The massive size and importance of the industry, the increased danger of drivers sharing the road with tractor-trailers, and the specialized training that truck drivers are required to have, led the Department of Transportation to create the Federal Motor Carrier Safety Administration (FMCSA). The FMCSA regulates and oversees the trucking industry and ensures that trucking companies and truck drivers follow the guidelines they've set to keep all drivers and passengers on the roads safe.
The Truck Driver's Travel Log
One way the FMCSA promotes the safety of drivers and passengers is by creating and enforcing regulations that truck drivers must follow. One of the essential regulations created by the FMCSA is the Hours of Service Regulations, or HOS. These regulations set forth the maximum number of hours that truck drivers are permitted to drive consecutively, how many breaks truck drivers must take, and how many hours of rest are required between driving shifts. The way the FMCSA can oversee that these regulations are followed is by requiring that truck drivers document their hours of service in a travel log.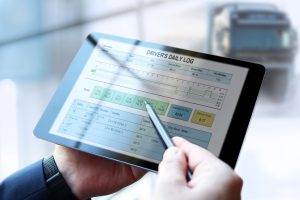 In December of 2017, the FMCSA required all trucks engaged in commerce to contain an Electronic Logging Device, which serves as an electronic travel log. These devices are required to record the date, time, location information, vehicle miles, engine hours, motor carrier, vehicle, authenticated user, and the identification information for the driver. This information is to be recorded at 60-minute intervals when the truck is moving, when the engine is powered up and shut down, and when the driver changes duty status.
The truck drivers' manual travel log contains information directly related to the Hours of Service regulation: hours a truck driver spends driving, on break, and resting. A truck driver must also document the number of miles they've driven, identifying information regarding their truck and carrier they're driving for, as well as any significant events that may have happened while they were driving. A truck driver documents this information in their travel log for every single hour in a 24 hour time period. The truck driver's travel log can be requested and reviewed by the FMCSA or other authorities, including in legal matters.
How the Travel Log Can Be Important for Your Claim
When your truck accident lawyer files a personal injury claim with an insurance company or files a personal injury lawsuit in court, they will fight for you to get the compensation you deserve by building as strong of a claim or lawsuit as possible. They do this with strong evidence proving that you were seriously injured by the negligent actions of the truck driver.
A good truck accident lawyer will request and review the data from the ELD and the truck driver's travel log to see if either one illuminates any violations of FMCSA regulations, specifically the Hours of Service. When truckers drive more hours than they are permitted to, they can become fatigued while behind the wheel. Fatigue is a common cause of vehicle accidents.
Evidence of a truck driver violating the Hours of Service Regulations could support your claim that the truck driver was fatigued when the accident occurred. If truck driver fatigue was the cause of your accident, the truck driver would be liable for your injuries, and the truck driver's employer could be liable if they forced the truck driver to work beyond the permitted hours.
Call Jonathan R. Brockman, P.C.
If you or someone you love has been seriously injured in a truck accident that was the truck driver's fault, you may be entitled to compensation. The experienced truck accident attorneys at Jonathan R. Brockman, P.C. can help you pursue the fair and just compensation you deserve. Call us today at (770) 205-8827 or contact us online to schedule a free consultation.