Posted on Monday, January 10th, 2022 at 11:55 am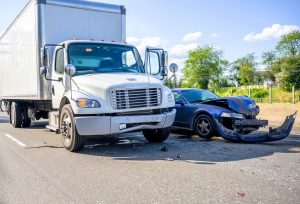 Filing a truck accident claim against the insurance company of the trucking company or truck driver is complicated. Insurance companies require a substantial amount of information about you and the accident. The claims process after a truck accident is usually more complicated than after a car accident.
This is because there are more parties involved. Unless the truck driver owns his own vehicle and is an independent contractor, you will also be involved with the trucking company.
The liability for the accident may fall on the driver or on the company that hired the driver. This can depend in part on the contract the driver has with the company. Trucking and freight companies also carry liability insurance to cover their drivers.
Sometimes the company will try to escape liability, claiming the driver was breaking the rules, not driving an authorized vehicle, or violating the law.
Investigations are also more complex, and the process relies on federal trucking laws. Trucks are also heavier and larger than other vehicles on the road. This may lead to multiple injuries that are life-threatening.
Truck Accident Claims and Lawsuits Are Different
The claims process begins with the trucking company's insurance company. Once a claim has been filed, the insurance company may send an insurance adjuster to ask you more questions or to offer an early settlement.
Insurance adjusters are skilled negotiators. For this reason, it is important that you do not speak with an adjuster without your attorney present. In many cases, the first settlement offer is not a fair one. This is because the insurance adjuster's job is to reduce the financial burden on their company and lower their costs.
During a meeting with an adjuster, you can accidentally say something that will negatively affect your case. Your Georgia truck accident personal injury attorney can help prevent this from happening and do the negotiating for you.
If we can't reach a fair settlement with the insurance company, you may choose to file a personal injury lawsuit. This moves your claim into the court system where it becomes a case against the people or company who is liable for your injuries.
How Do Truck Accident Claims Work?
Filing a truck accident claim usually involves a three-step process. First, the claim must be brought to the insurance company. Next, you must collect and preserve evidence to prove your claim, and then negotiate a fair settlement with the insurance company.
More often, the trucking company is liable for the crash. However, after investigation, you may find that the truck manufacturer, vehicle maintenance company, or cargo loading company may also be at fault.
It's also important to collect and preserve all evidence needed to support your claim. A skilled Georgia truck accident attorney will review several types of evidence to help determine who may be liable for the damages. These include:
Eyewitness statements
Truck maintenance records
Photos of the crash
Damage to the vehicles
Testimony from expert witnesses
Accident reconstruction
Evidence of federal law violations
Prepare Your Truck Accident Claim
You can take several steps to help obtain the evidence of damages and liability after a truck accident. It's important to get medical attention as soon as possible. Because accidents with large vehicles can lead to severe injuries, your well-being should be your first priority.
Medical attention will also provide documentation of your initial injuries. It is crucial that you follow the recommendations of your physician. This means seeing every specialist and therapist they refer you to, as well as going through rehabilitation, or getting all tests your physician orders. This demonstrates to the insurance company or the court that you are serious about your health.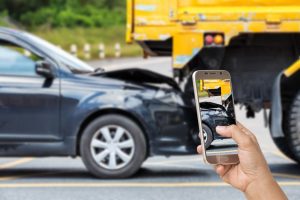 You will also want to gather a police report from the accident. Depending upon where the accident happened, you may have local and state police on the scene. Be sure you get reports from both law enforcement agencies.
If possible, use your phone to take photos of the accident scene, witnesses, license plates of the cars around the accident, and your injuries. If you're taken immediately by ambulance to the hospital, try to have a friend or family member attend the scene to get pictures.
Be sure to stay off social media and do not post information about the accident anywhere in the public space. Insurance adjusters and attorneys representing the insurance companies can potentially use this information against you.
Contact Jonathan R. Brockman, P.C. Today for Help With Your Georgia Truck Accident
If you were injured in a Georgia truck accident due to the negligence of the other driver, you may be entitled to compensation. This can help pay your medical expenses and replace your lost wages if you must stay home from work.
The insurance claim process can be complex and requires substantial documentation to prove your case. Call the attorneys at Jonathan R. Brockman, P.C.. We can help you through the accident claims process and negotiate with the insurance company on your behalf. Call our office today at (770) 205-8827 for your free consultation.