How to Dispute Fault in a Car Accident
Posted on Saturday, July 1st, 2023 at 3:01 pm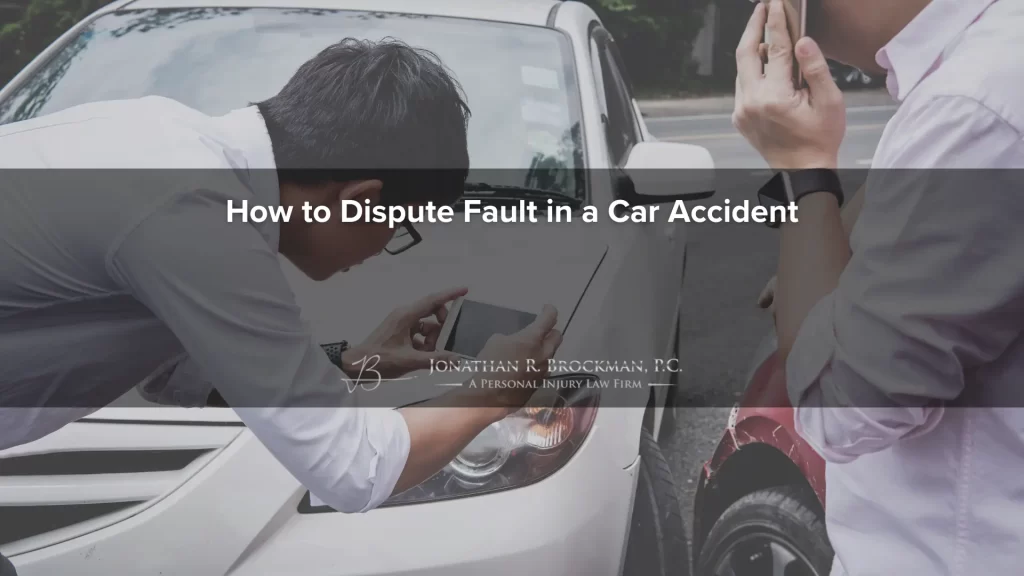 After a traffic collision, insurance companies conduct investigations to assign liability. However, adjusters do not always get it right, and they may claim that you are liable when you did nothing wrong. Yet, you should not simply accept a wrongful determination of fault. Remember that you have the right to fight back. With the proper legal help, you can successfully dispute a flawed fault finding in your car accident case.
Who Determines Fault After a Car Accident?
Insurance companies make the initial assessment of which driver was at fault in an accident. Adjusters review evidence like police reports, accounts from involved parties, eyewitness statements, and more. Based on their investigation, the insurers assign percentage-based liability to determine whether you are eligible to receive compensation for your accident-related losses.
Your lawyer will conduct their own investigation into the circumstances of the accident and reach their own assessment of who was at fault for the crash. Armed with facts and research, they can fight the insurance company's erroneous conclusion.
It is crucial to remember that insurance carriers have a financial incentive to pin as much fault as possible on you. They want to protect their bottom line, so they will always try to find a way to limit the amount of money they have to pay out. Drivers avoid unfairly shouldering costs by collecting and presenting the proper evidence to dispute incorrect determinations of fault.
Evidence Needed to Determine Fault in a Car Accident
Many factors influence fault decisions in auto collisions, including:
Police accident reports
Driver and witness statements
Photographs and video
Vehicle damage details
Accident reconstruction evidence
Traffic citations
Collecting and presenting evidence is critical to determining liability. However, knowing how to obtain this evidence can prove challenging, particularly if you are recovering from an accident-related injury. An experienced lawyer will be able to gather what you need to fight back.
Read more: How to Collect Evidence at the Scene of an Accident
What if Fault Is Wrongly Attributed?
If you believe the insurance company got it wrong, you can dispute their fault finding. Start by contacting your insurer and formally contesting the decision. Be prepared to present counter-evidence showing you were not at fault.
You can also reach out directly to the other driver's insurance carrier. Provide a clear account of why their policyholder was responsible and ask them to reconsider. Hiring a lawyer adds credibility and legal acumen to the process.
Can At-Fault Drivers Still Collect Compensation?
In Georgia, even drivers who are partially at fault for car accidents can recover compensation as long as they are less than 50 percent at fault for the collisions. However, their compensation is reduced by their percentage of liability. For example, if you were 30 percent at fault for a crash, any award would be decreased by 30 percent.
However, you should not accept an unfair reduction if you bore no responsibility for the accident. A seasoned Georiga car accident attorney will build a solid case on your behalf and fight for the compensation you deserve.
Read more: Understanding Comparative Fault in Georgia Personal Injury Cases
What to Do After a Car Accident
After any collision:
Seek medical attention, even if you believe your injuries are minor
Document the scene and vehicle damage (take photos, videos, etc.)
Get contact information for any witnesses
Notify the insurance company promptly
Do not admit fault or sign anything provided by an insurer without legal counsel
Consult an attorney who can fight to protect your rights 
Why You Need to Hire a Lawyer After a Car Accident
In general, disputing fault requires the knowledge and skill of an experienced car accident attorney. The accomplished Georgia car accident lawyers at Jonathan R. Brockman, P.C. have decades of experience appealing wrongful determinations and securing maximum compensation for injury victims. We know what it takes to build a solid case proving who caused the crash. Let our attorneys handle your claim so you can focus on recovery.
Under Georgia law, you have a limited time to file legal action for a car accident, so do not wait. Contact our office as soon as possible to explore your options. We offer free consultations and only collect fees if we win your case. With the right attorney on your side, you can successfully clear your name and recover the compensation you deserve.
Call us today at (770) 205-8827.
Related pages: