What to Do in a Hit-and-Run
Posted on Monday, July 31st, 2023 at 2:04 pm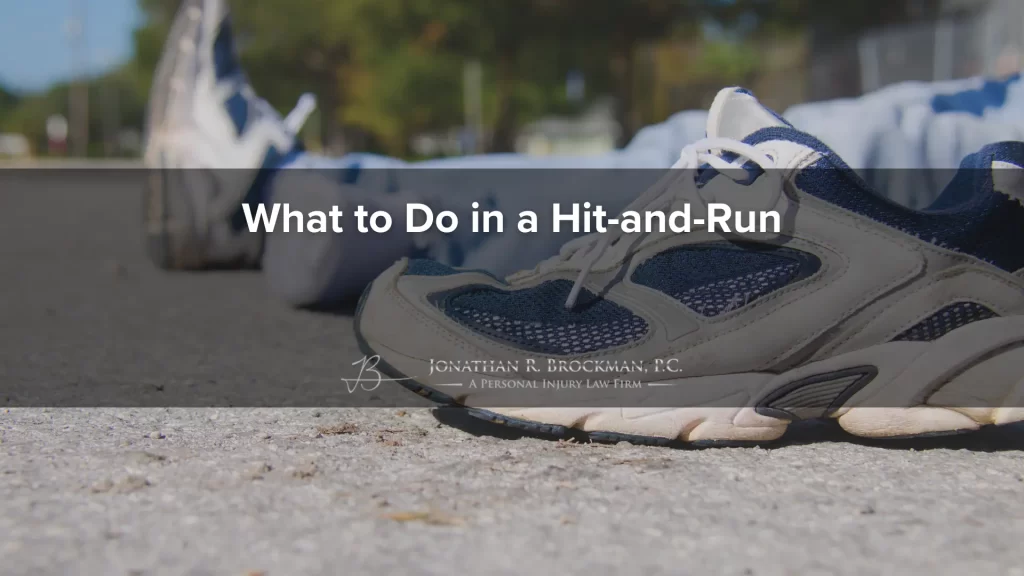 Being the victim of a hit-and-run accident can be scary and confusing. These incidents are serious, and they happen far too frequently in Georgia. If you have been the victim of a hit-and-run, you likely have many questions about what to do next and how the process works. You may be worried about identifying the at-fault driver, documenting the accident, interacting with law enforcement, and getting compensation for your injuries and damages. Understanding the key steps you must take after a hit-and-run can help protect your rights.
How to Report a Hit-and-Run
After the initial shock of a hit-and-run accident, taking the proper steps is critical. State law requires you to "immediately" report any accident involving injuries, deaths, or more than $500 in property damage to the police. Here's how to report a hit-and-run crash in Georgia:
Call 911: When you dial 911 to report the incident, be ready to provide as much information as possible. If the information is available, include your location, a description of the hit-and-run driver or their vehicle, and any other details that might be helpful.
Wait for the Police: Don't leave the accident scene until law enforcement arrives. In Georgia, it's not only essential to your personal injury claim, it's also the law. Furthermore, you should document everything you can remember about the accident and the fleeing vehicle. Take photos of any damage to your car and the scene. Be sure to get contact info for any witnesses who saw the accident. All of this will support your police report.
File a Police Report: Once the officers arrive, you must file a police report. This report is an official record of the incident and will play a vital role in any subsequent legal action or insurance claims. Be honest and as detailed as possible when providing your account of the accident. You can view a sample of the police accident report form here.
Notify Your Insurance Company: Report the incident to your auto insurance company as soon as possible. Be sure to provide them with a copy of the police report after the police have completed their initial investigation. Taking swift action will help expedite any claims you need to make.
Read more: How to Read (and Understand) An Accident Report
How Long After a Hit-and-Run Will Police Contact You?
After filing the report, police will investigate to try to identify the at-fault driver. The investigation timeline varies, but officers typically follow up within a few days. However, it may take longer if the fleeing driver is difficult to identify.
Even if officers cannot locate the hit-and-run driver, having an official report on file is crucial for insurance claims and possible legal action. So do not wait for the police to follow up if they take longer than you expect. Make the call to get the process started. Working with an experienced Georgia hit-and-run accident attorney can help if the investigation stalls.
What Do Police Do in a Hit-and-Run Investigation?
When investigating a hit-and-run, the police will gather information to find the responsible driver.  For hit-and-run cases with serious injuries, police may issue a BOLO ("be on the lookout") alert to aid in locating the at-fault driver.
In general, this is what police do:
Record Statements: Police will collect statements from you and any available witnesses at the scene. This helps them piece together the events leading up to, during, and following the accident.
Collect Evidence: Officers will document the scene, often taking photos or videos of the damage to your vehicle, any skid marks, street signs, or other relevant features. They might also look for any parts or debris from the other car that might have been left behind.
Review Traffic and Security Cameras: They'll scour the area for traffic cameras, security cameras from nearby businesses, or even home security cameras that might have captured the incident. This can often lead to identifying the vehicle or even the driver involved in the hit-and-run.
Examine the Vehicle Debris: Any debris or vehicle parts left at the scene can provide crucial clues. From paint chips to broken car parts, these items can give insight into the runaway vehicle's make, model, and color.
Follow-Up on Leads: Officers may follow up on any potential leads that arise from their investigation. For example, they might check local repair shops for the offending vehicle.
Read more: What Evidence Is Needed to Convict a Hit-and-Run?
Remember, every bit of information you provide can be a tremendous help in these investigations. Even seemingly insignificant details could be the key to resolving your case. While the police are doing their part, ensure you're doing yours by cooperating fully and providing any information that might aid the investigation.
How Long Before Police Stop Investigating a Hit-and-Run?
There is no set cutoff for when police will suspend a hit-and-run investigation. The viability of identifying and charging the fleeing driver depends largely on the evidence available.
With sufficient information, police may continue the investigation for weeks or months after the accident. However, officers may shift their focus to other cases if leads dry up quickly.
Do not wait indefinitely for the police to solve the case. Enlist the services of an experienced car accident attorney who can conduct a separate investigation to help confirm liability and seek compensation. Even if the driver remains unidentified, your attorney may be able to identify other ways of securing the compensation you need to address your injury-related losses.
Contact Jonathan R. Brockman, P.C. Today for a Free Consultation
Being the victim of a hit-and-run can quickly become overwhelming, but don't lose hope. The dedicated Georgia car accident attorneys at Jonathan R. Brockman, P.C. are here to help. We will evaluate the details of your accident and advise you on the best path forward to recover compensation.
Jonathan R. Brockman, P.C.'s award-winning legal team knows what it takes to maximize compensation for our clients. Our attorneys will negotiate aggressively with insurance companies, demanding full and fair settlement offers. If needed, we will take your case to court to secure the maximum compensation you deserve.
The attorneys at Jonathan R. Brockman, P.C. provide each client with compassionate, one-on-one legal guidance. Our personal, dedicated approach sets us apart. You are more than just a case number – you will work directly with an attorney who cares. We will answer your questions, explain your options, and do our best to ease your concerns. With Jonathan R. Brockman, P.C. advocating for you, you do not have to handle this alone.
Let our experienced team of personal injury lawyers work toward restoring your rights after a hit-and-run. Call (770) 205-8827 now or contact us online for a free, no-obligation case review to learn more about how we can help you.
Related pages: