Georgia Scaffold Collapse Accident Attorneys
If you've been injured in a construction accident in Georgia, you may be entitled to compensation. It's critical that you discuss your case with an experienced construction accident attorney.
Unfortunately, in the year 2019, nearly 5,000 workers in the construction industry in Georgia were injured. Such an injury can halt your life in an instant. You may be facing a growing stack of medical bills and wondering how you will pay for them, especially if you are out of work due to your injury.
Contact Jonathan R. Brockman, P.C. today at (770) 205-8827 to speak with one of our compassionate Georgia construction accident attorneys. Let us take over your case so you can focus on your recovery and move on from this painful time.
What Is a Scaffold?
When work is performed on the outside of a building, scaffolding is often used to provide access and support workers. A scaffold is a temporary structure that may be erected around a building to provide a platform for workers and their materials. Scaffolding is usually constructed of steel or timber, often in combination. It's critical that a scaffold is installed, inspected, and maintained properly.
The US Department of Labor Occupational Safety & Health Administration (OSHA) maintains standards to ensure that working conditions are safe. Their standards apply to many types of situations and working conditions, including scaffolding. OSHA's scaffolding standards cover various elements, such as training, safe access, and fall protection.
What Is a Scaffold Collapse Accident?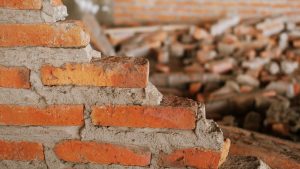 When a scaffold works properly, it may seem quite simple and is easily taken for granted. However, scaffolding is a complex system that must meet specific specifications for loading conditions and the strength of materials. A scaffold that is designed, installed, inspected, and maintained properly will usually function safely without incident. The training of scaffold workers is also a critical component for safe operation.
A scaffold collapse can occur for a variety of reasons. These often involve some type of failure to erect or use the scaffold in accordance with requirements. Reasons for collapse may include:
Improper installation
Failure to perform regular inspection
Failure to perform maintenance when damage occurs
Defective materials or parts
Platform overload
Non-compliance with OSHA standards
Collisions with vehicles or other construction equipment
A scaffold collapse from any height is dangerous. Since scaffolding is often used on buildings with multiple stories, such a collapse can be disastrous.
What Types of Injury Can a Scaffold Collapse Accident Cause?
A worker standing on scaffolding when the collapse occurs may fall from a significant height. Workers below the scaffold may be struck by falling objects that were supported by the scaffold. A person may even be crushed by the scaffold elements or other heavy equipment.
Injuries caused by scaffold collapse can be severe. These may include:
Concussions
Spinal cord injuries
Traumatic brain injury
Broken bones
Internal organ damage
Internal bleeding
Accidental amputations
Paralysis
A scaffold collapse could even result in death.
Workers' Compensation
The process of pursuing compensation after a construction accident can be complex. With workers' compensation, there are deadlines that need to be met and specific requirements you must fulfill in order for your claim to be approved. These include seeking prompt medical treatment and following all doctor's orders. Workers' compensation reimbursement generally covers health care costs and a portion of your lost wages.
However, your claim may still be denied even if you comply with these requirements. Reasons for a denial may include the lack of documentation or conflicting statements between you and your employer. You do have the option to appeal in the event that your workers' comp claim is denied.
Each case is unique and depends on a variety of factors. It's important to choose a lawyer who understands workers' comp requirements and how they affect your case. They will ensure that all deadlines are met and that all documentation is complete and submitted correctly.
What Happens in a Personal Injury Case?
Claiming workers' compensation benefits is different from pursuing compensation in a personal injury case. One key difference is that, in a workers' compensation case, there's no need to prove that anyone was at fault for the accident. If you were injured at work and your employer has workers' compensation coverage, you should get benefits. However, if you pursue a personal injury case, you'll need to show that someone else was at fault for the accident that caused your injuries.
Another key difference is that a personal injury case may result in compensation for elements that workers' comp does not cover. These may include intangible losses that don't have a set dollar amount associated with them, such as loss of enjoyment of life or pain and suffering.
There will be an investigation to determine what happened in the accident and who is liable. A construction accident, such as a scaffold collapse, may involve multiple parties who could potentially be at fault. These can include contractors, subcontractors, manufacturers of parts, property owners, engineers, and construction companies.
There is a significant amount of evidence that will need to be collected and analyzed. You need someone who will build the strongest case possible to fight for the compensation to which you may be entitled.
Insurance companies may also be involved. They are known for doing whatever they can to avoid paying money to injured people like you. One way they may do this is by denying your claim outright. They may also try to reduce the amount they must pay you by making settlement offers that are too low. They want you to accept such an offer to keep their money in their own pockets.
Insurance companies often assume that an individual is unfamiliar with all the components of compensation to which they may be entitled. These could include:
Physical therapy
Prescription medication
Pain and suffering
Loss of enjoyment of life
Jonathan R. Brockman, P.C. will handle all negotiations for you. We will reject lowball offers and pursue the money you need. Our attorneys will build the strongest case possible to fight for the maximum amount of compensation to which you may be entitled.
Most cases are settled outside the courtroom. However, if negotiation is unsuccessful, our attorneys will be prepared to go to trial to fight for you.
Why Choose Jonathan R. Brockman, P.C.?
When you choose us to represent you, you can trust that we have your best interests in mind. Our attorneys have more than 70 years of combined experience pursuing compensation for people injured on the jobsite or by the actions of others. Our previous clients gladly share their testimonials about their experience working with us.
We know how to get results, and we have the demonstrated victories to prove it. You can rest easy knowing there are no upfront fees when you choose Jonathan R. Brockman, P.C.. In fact, there are no fees whatsoever unless we are successful in getting financial compensation for you.
Call Jonathan R. Brockman, P.C. Now
If you've been injured because of a scaffold collapse accident in Georgia, you may be entitled to receive financial compensation. You need to speak with an experienced Georgia construction accident attorney about your case as soon as possible. You do not have to navigate this painful and difficult time alone.
Call us today at (770) 205-8827 to discuss your case with a member of the Jonathan R. Brockman, P.C. legal team. You can also submit a contact form, and we will be in touch as soon as we are able. Our lawyers are ready to schedule a free, no-obligation consultation with you. Call us now.