Pedestrian Accident Lawyers in Atlanta
If you were injured in a pedestrian accident, you might be eligible to file a claim for compensation for your losses. The experienced lawyers of Jonathan R. Brockman, P.C. will fight for your rights every step of the way. Our team of attorneys has over 70 years of combined experience helping injured people across Georgia, and we are ready to help you, too. Call us today at (770) 205-8827 or contact us online for a free consultation to learn more about how we can help you.
The streets and roads of Atlanta are dominated by cars. However, it is essential to remember that pedestrians have rights too. Many negligent drivers do not operate their vehicles in a way that respects these rights, which can lead to catastrophic injuries far too often.
When a vehicle strikes a person on foot, the pedestrian is in danger of suffering debilitating and even fatal injuries. If they survive, their life may be turned upside down. Their injuries may temporarily or permanently prevent them from going to work. They may also face months or years of arduous rehabilitation. And beyond the physical pain they experience, they may also endure severe psychological trauma. The enormous medical expenses they could incur make all this even more overwhelming.
What Are the Top Causes of Pedestrian Accidents in Atlanta?
As a thriving and growing urban center, many citizens of Atlanta enjoy navigating the city on foot. However, pedestrian accidents are becoming an increasingly serious problem in our state. Statistics from the Georgia Governor's Office of Highway Safety indicate that pedestrian fatalities have doubled over the past ten years.
Some of the most common causes of pedestrian injuries include:
Distracted driving – Drivers engaged with their cellphones, GPS devices, or other distractions are less likely to notice pedestrians that emerge into their path.
Exceeding the speed limit – Drivers who speed may fail to see a pedestrian in their trajectory. They risk children's lives if they speed in school zones or residential areas.
Failing to yield – Pedestrians have the right-of-way at crosswalks and other designated intersections. Many drivers do not observe this right-of-way, increasing the likelihood of a dangerous collision with a vulnerable pedestrian.
Fatigued driving – When a driver gets behind the wheel without being sufficiently rested, or if they stay on the road for far too long, their slowed reaction times increase the risk of striking a pedestrian.
Driving under the influence – When someone gets behind the wheel under the influence of drugs or alcohol, those substances may impair their judgment. This can increase the likelihood of a collision with a pedestrian.
Poorly designed crosswalks or intersections – When pedestrian crossings are not appropriately marked, drivers may not recognize the possibility that someone might be crossing the road. Such circumstances can lead to serious accidents.
Poor weather conditions – In inclement weather, drivers must be particularly cautious. If they do not recognize the need to brake sooner than usual, they may collide with a pedestrian that has emerged into their trajectory.
What Kinds of Injuries Occur in Pedestrian Accidents?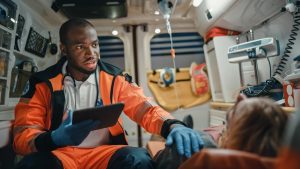 The consequences can be devastating when a motor vehicle strikes a pedestrian. This remains true even if the car or truck travels at a low speed. Some of the most common pedestrian injuries in Atlanta include:
Soft tissue damage, such as lacerations, sprains, strains, and dislocations
Road rash
Dental injuries
Facial disfiguration
Broken bones and fractures
Internal organ damage
Internal bleeding
Traumatic brain injury and concussion
Spinal cord injury and paralysis
Many people involved in pedestrian accidents also suffer from psychological issues such as PTSD, anxiety, and depression.
How Is Fault Determined in a Pedestrian Accident?
While it might seem as though determining fault in a pedestrian accident should be straightforward, this is not always the case. You must collect evidence proving that your injuries resulted from a driver's negligence. A skilled attorney will conduct the thorough investigation necessary to build a strong claim for maximum compensation for your losses.
What Compensation Is Available for Pedestrian Accident Injuries?
When a pedestrian has suffered injuries in a traffic accident, they may be able to claim compensation for economic and noneconomic losses. The experienced pedestrian accident attorneys at Jonathan R. Brockman, P.C. can help you recover compensation for:
Special equipment and caregivers
Disability and disfigurement
Loss of enjoyment of life
If a loved one lost their life in a pedestrian accident, our legal team could file a wrongful death lawsuit so that you can recover compensation for:
Your loved one's pain and suffering
Funeral expenses
Financial support they would have provided if they had survived
Loss of companionship
Do I Have a Time Limit to File a Pedestrian Injury Lawsuit?
A pedestrian who has suffered injuries in an accident has limited time if they wish to file a lawsuit for compensation. If they have not filed a lawsuit within two years from the date of their injury, they will usually be barred from claiming recovery in court for that accident forever.
Contact a Pedestrian Accident Lawyer From Jonathan R. Brockman, P.C. in Atlanta
If you suffered injuries as a pedestrian in a traffic accident in Atlanta that wasn't your fault, a dedicated personal injury attorney can help. Jonathan R. Brockman, P.C. attorneys pursue the full and fair compensation you deserve for your accident-related losses. The experienced pedestrian accident lawyers of Jonathan R. Brockman, P.C. in Atlanta have the necessary skills and resources to fight aggressively for your best interests every step of the way.
Our lawyers understand that no two pedestrian accidents are the same, and we are dedicated to giving you the individual attention you and your case need and deserve. Our firm does not charge upfront fees. We will only take payment if we successfully recover a financial award on your behalf.
Call us today at (770) 205-8827 or contact us online for a free consultation and learn about your legal options.