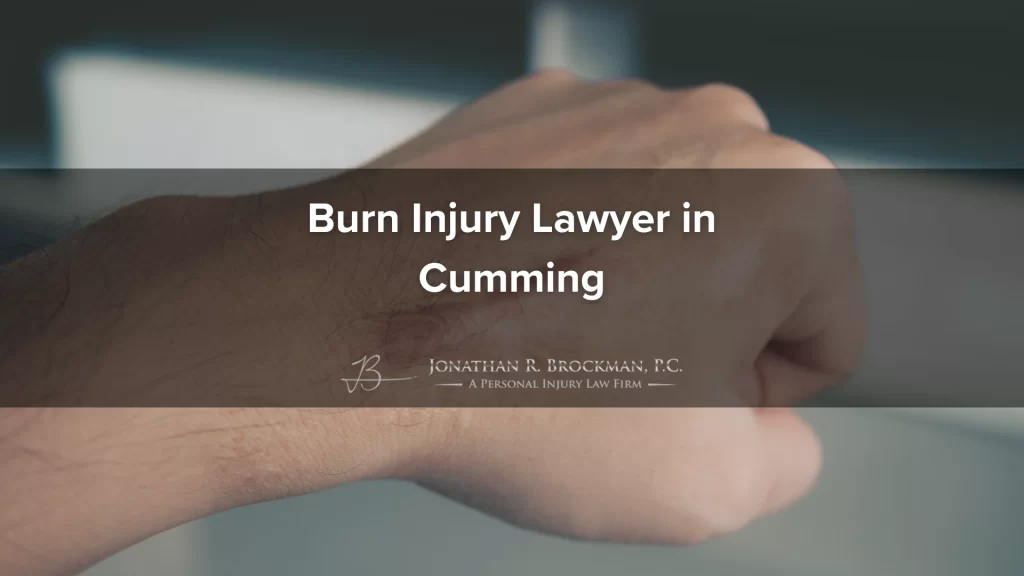 Fire accidents and other incidents resulting in burn injuries can dramatically change lives. And if you were burned in an accident caused by someone else, you may also be feeling angry that you were hurt through no fault of your own while you're watching the medical bills pile up. Your injuries might prevent you from returning to work, which can make money worries even worse. They could also result in scarring, pain, and more.
Our compassionate Cumming burn injury lawyers at Jonathan R. Brockman, P.C. know this is a difficult time. We can review your case and let you know how we can help. Learn more by contacting us online or calling us at 770-205-8827 to schedule your free consultation with a Cumming personal injury lawyer.
Types of Cases That Include Burn Injuries
Some types of personal injury cases that may cause burn injuries include:
The National Library of Medicine offers the following classification system for types of burn injuries:
First-degree burns: A burn that only affects the skin's outer layer is a first-degree burn. These burns are pink to red, don't blister, and are painful.
Second-degree burns: Second-degree burns affect the first two layers of the skin. These burns blister, can be red, pink, or mottled, and they are painful. They may leave a scar.
Third-degree burns: Third-degree burns go through all layers of skin into the fat layer. The burns leave a leathery appearance and cause no pain because the nerves are damaged. They may require skin grafts.
Fire accidents aren't the only types of accidents that may cause burns. Chemical burns, scalds, and electrical burns are other burns types.
Liability in Burn Injury Cases
To file a personal injury claim for compensation, you must show your injuries resulted from the carelessness or actions of another party. Potentially liable parties in burn injury cases include:
Motorists
Trucking companies
Doctors and medical facilities
Designers, manufacturers, or marketers of products that are defective or unreasonably dangerous
Property owners who overlook hazardous conditions on their property
It's not always clear who the liable party is. Your lawyer can investigate to determine liability.
Proving fault isn't always a requirement. You can file a claim for workers' compensation benefits if you sustained burn injuries in a work-related accident, regardless of who was at fault.
Average Settlements in Burn Injury Cases
Settlement amounts in all types of personal injury cases can be wide-ranging. One of the key factors influencing your claim's potential value is the severity of your injuries.
Other factors that affect settlement amounts in personal injury cases include:
Future medical expenses
Lost wages
Lost earning potential
Impaired quality of life
Pain and suffering
How a Lawyer from Jonathan R. Brockman, P.C. Can Help You With Your Case
Our Cumming, GA, burn injury lawyers will tailor our approach to the specific details of your case. A Cumming burn injury lawyer could help you by:
Explaining your legal options during a free case review
Assessing your case's value
Corresponding with insurance adjusters on your behalf
Completing and submitting all paperwork
Gathering evidence to support your claim
Negotiating a fair settlement
Filing a lawsuit to seek damages in court if the insurance company won't offer what you deserve
Georgia's statute of limitations allows only two years from the date of your injury to file a personal injury lawsuit. The deadline is one year after an accident to file a workers' compensation claim. Get in touch with a Cumming burn injury lawyer sooner rather than later to avoid accidentally forfeiting your rights to compensation.
Legal Fees in Burn Injury Cases
You may hesitate to meet with a lawyer even if you believe they could help with your case. Such a concern is easy to understand in your circumstances. You may already be facing bills for medical treatment and other such financial difficulties. Why add to your bills with no guarantee of a successful outcome?
You don't need to worry about the cost of an attorney when you hire our firm. At Jonathan R. Brockman, P.C., we don't charge for the initial case review. Meeting with a member of our team involves no financial risk on your part.
We also won't charge upfront fees for our services if you hire us. We use the contingency fee model, only charging legal fees if we get compensation for you. Our fee will be a previously determined percentage of the compensation we secure on your behalf.
The Personal Injury Process: FAQs
Other questions you might have regarding personal injury cases may include:
How long does it take to resolve a burn injury case in Cumming, GA?
It's impossible to say for certain how long your case will take to resolve. We've seen personal injury cases resolve in as little as four months. Others can take more than two years to see to completion. Rest assured, we won't abandon your case early if it means accepting an unreasonably low settlement amount.
Can more than one party be liable in a burn injury case?
Yes. For example, in a multi-vehicle collision, several drivers may be at fault. When investigating your case, we'll strive to identify all liable parties.
What else can I do to strengthen my case?
Your best case strengthener is to hire a seasoned burn injury attorney. Along with that, you can strengthen your case by following all medical advice you receive. In addition, consider staying off social media. Anything you post on social media could potentially be used against you during negotiations. Even a picture of you engaging in physical activity could be used to show your injuries aren't that severe.
Contact a Burn Injury Lawyer in Cumming
One of the most effective ways to make your life easier after sustaining burn injuries is to hire an attorney. While a Cumming burn injury lawyer with Jonathan R. Brockman, P.C. handles your case, you can focus on resting and healing. Learn more about what we can do for you by contacting us online or calling us at 770-205-8827 to schedule a free case review today.