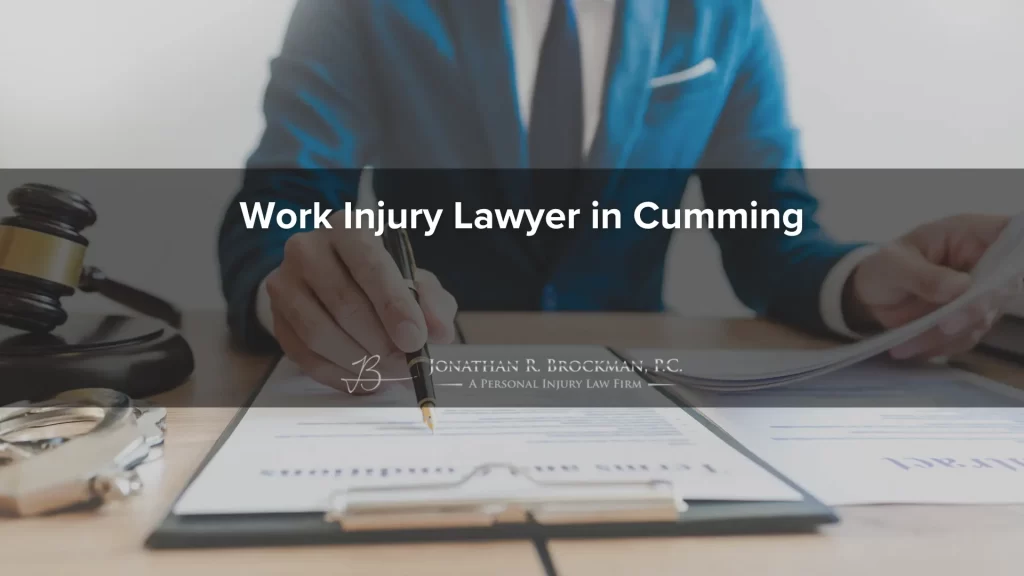 If a party other than your employer contributed to your workplace injuries, you could pursue a third-party lawsuit to hold them accountable. This type of action falls outside the scope of the workers' compensation process. Your third-party liability claim could be worth more than your workers' compensation case. That's why you should call our work injury lawyer in Cumming immediately at 770-205-8827 for a free consultation
A third-party case significantly differs from a workers' compensation claim due to the varied laws, procedures, and approaches involved. Many workers' compensation attorneys do not handle third-party liability cases. However, at Jonathan R. Brockman, P.C., we aim to support your pursuit of a third-party liability claim, striving to secure the maximum compensation for your injuries.
Should I File a Workers' Comp Claim or Third-Party Lawsuit in Cumming, Georgia?
When it comes to a workplace injury, you're generally unable to sue your employer in court. Your recourse against your employer for a workplace injury is typically exclusively through your workers' compensation claim. This process involves seeking benefits from your employer's workers' compensation insurance policy. This coverage encompasses medical expenses and partial wage replacement, regardless of fault. However, workers' compensation laws limit the extent of your compensation.
A third-party liability claim enables you to sue a third party responsible for your workplace injury. The lawsuit compensation is broader than that in a workers' compensation claim. It includes medical bills, lost wages, emotional distress, pain and suffering, and other losses.
Where Do Third-Party Workplace Injuries Occur in Cumming?
Employees hurt at work in Cumming, Georgia, may have third-party liability claims they can bring in court. Cumming is a growing city with thriving businesses and industries and is a part of the Atlanta metropolitan area.
Employees of these various Cumming businesses can suffer severe and life-changing workplace injuries for which obtaining full compensation may require a third-party liability claim. Industries that are thriving in Cumming include the retail and food service business, such as those at Cumming Town Center and Lanier Crossing, the technology and office job sector, construction, manufacturing, and logistics.
Any of these jobs could lead to catastrophic injuries caused by negligent third parties or the products manufactured by third parties.
What Types of Injuries Occur in Third-Party Accidents?
Third-party accidents lead to many of the same injuries as those caused by normal working conditions. Below, we mention a selection of common workplace accidents and injuries we often handle cases about.
The entity that owns the business location (if different from the employer) or a cleaning company responsible for keeping things safe could fail to maintain the premises, causing a dangerous condition that results in back injuries or wrist fractures.
Burns and scalds
In cases involving employee injuries doing food service work, it's possible that faulty kitchen equipment or cleaning chemicals caused harm. If so, the equipment or chemical manufacturers could be liable.
Cuts and lacerations
If an employee uses cutting machines -for example, in food service or packaging, defective equipment can cause severe injuries and lead to third-party liability of the machine manufacturer or servicer.
Repetitive strain injuries
When third-party companies provide or maintain office furniture or equipment and fall short of keeping it up to necessary safety standards, a third party can cause or contribute to repetitive strain injuries.
It is crucial for tools and building materials always to be secure. But, if a contractor or another employer's employee negligently created a condition that caused a traumatic brain injury, the injured worker could pursue a third-party claim against the responsible party.
Broken bones and internal injuries in falls from heights
A third party could have been responsible for building or maintaining the scaffolding on a construction worksite. If a fall from scaffolding causes injuries, the third-party contractor or even the scaffolding manufacturer could be liable for your injuries.
Related page: Cumming Construction Accident Lawyer
Chemical exposure
If a manufacturing job involves chemicals that harm a worker, the chemical suppliers or other contractors responsible for the substances could be liable for those injuries.
Blast or burn injuries
If a worker suffered injuries in a workplace explosion or fire, they could have a third-party claim against the entity that made the explosive or flammable material or even the maker of faulty safety equipment.
Neck and back injuries
If a third party causes an accident that results in neck and back injuries, the injured worker could be left with lifelong catastrophic injuries, such as paraplegia or quadriplegia. Whether the third party caused an accident by their negligent use of a motorized device and struck the worker, or the third party manufactured equipment that malfunctioned and caused the injury, they could be held liable.
Learn more about the types of cases our personal injury lawyers in Cummings specialize in.
How Long Do I Have to File a Third-Party Lawsuit in Cumming?
In Georgia, the statute of limitations allows an injured person two years from the date of the accident to file a personal injury lawsuit against the party that harmed them. If the worker misses the two-year deadline, their case will likely be dismissed without a hearing, regardless of its merit.
What Compensation Could I Get from a Third-Party Lawsuit?
When you file a third-party lawsuit, you can pursue compensation for more losses than you can get money for under workers' compensation laws. In a third-party lawsuit, you could be compensated for your:
Medical expenses
Post-traumatic stress disorder
Loss of enjoyment of life
Read more: Tracking Medical Expenses After an Accident
Our Work Injury Lawyer in Cumming Can Pursue Your Third-Party Claim
Even if you've already filed a workers' compensation claim, it's not too late to explore a third-party liability claim. If you want to know if you have a third-party claim, seek the advice of an experienced Georgia litigation firm like Jonathan R. Brockman, P.C., known for our track record in handling personal injury lawsuits.
Our passion is to assist clients in seeking complete compensation for their workplace injuries. That often involves third-party lawsuits. We are ready and waiting to guide you through the litigation process and fight for all your legal rights.
Don't wait to call Jonathan R. Brockman, P.C. at 770-205-8827 for a free initial consultation with our work injury lawyer in Cumming. Together, we can assess if a third-party liability claim can secure your deserved compensation after your work accident in Cumming.
Read more: