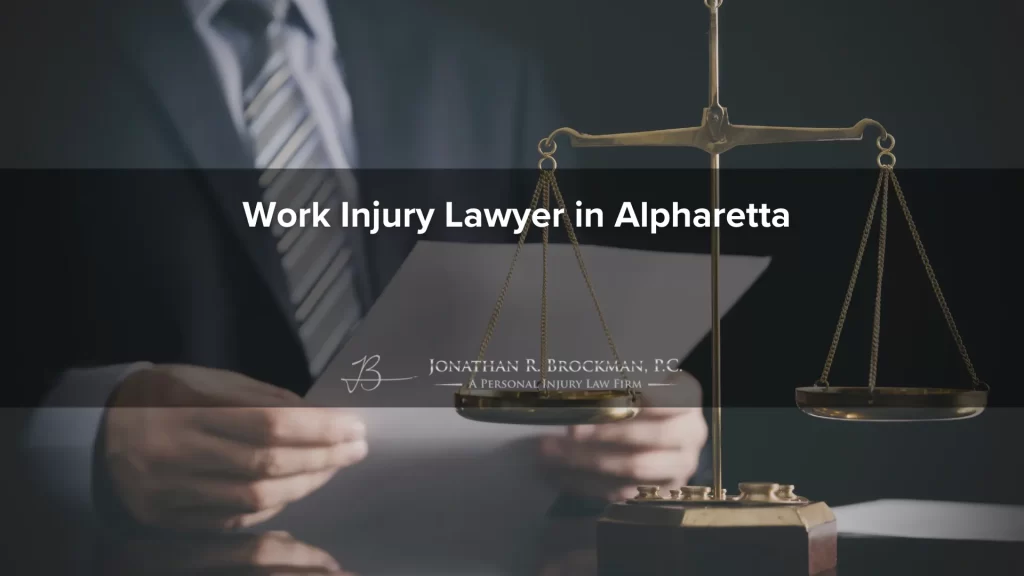 Select a lawyer skilled in workers' compensation law and civil case litigation if you were injured at work. Otherwise, you could miss out on other compensation that might be available. Call our work injury lawyer in Alpharetta at 678-213-2401 for a free consultation to learn more about your options.
If a third party, not your employer, contributed to your injuries, you might have a claim against them. A third-party liability claim might entitle you to pursue more compensation than a workers' compensation case offers.
Pursuing a third-party case differs significantly from handling a workers' compensation claim. They have different procedures, rules, and strategies. Many workers' comp attorneys only practice workers' compensation law and won't try a third-party liability case. But Jonathan R. Brockman, P.C. can help you pursue your third-party liability claim in court and obtain maximum compensation for your injuries.
Read more: Your Work Injury May Be Worth More than You Think
Should You File a Lawsuit for an Alpharetta, Georgia Work Injury?
Determining your eligibility to file a third-party lawsuit for a work injury requires identifying the cause of the injury.
Workers' compensation is your only remedy for a workplace injury unless someone other than your employer caused the accident. Your employer's workers' comp carrier covers medical bills and partial wages regardless of the fault. In return, you generally cannot sue your employer. However, workers' compensation benefits have limitations.
Alternatively, you can sue a third party whose negligence contributed to your injury. Responsible parties may include manufacturers of defective equipment, careless contractors, or reckless drivers. You can seek full compensation for injuries and related losses in these cases. Compensable damages include full wage replacement, property repair or replacement, and pain and suffering.
If a third party injured you, you should file a third-party lawsuit to pursue the money you deserve for your injuries.
Read more: Tracking Medical Expenses After an Accident
How Long Do You Have to File a Lawsuit for a Workplace Injury?
Georgia's statute of limitations permits a two-year window from the injury date to file a personal injury lawsuit against the responsible party. Missing the deadline results in case dismissal. Consequently, the injured worker cannot obtain compensation through the court system.
Where Do Third-Party Workplace Injuries Occur in Alpharetta?
Georgia's many diverse industries can give rise to serious workplace injuries that potentially implicate third-party liability. These injuries can result in life-altering consequences for employees, often opening the door for legal recourse beyond traditional workers' compensation claims. Here are some categories of workplace injuries and scenarios where third-party liability might come into play.
Technology and Office Space Accidents
Whether ADP, Fiserv, Equifax, LexisNexis, or MCI, Alpharetta has many companies employing people in office jobs. White-collar workers suffer workplace injuries, too. And for some office-space injuries, third-party claims may be possible.
Repetitive strain injuries – These injuries could occur if third-party companies supply or service furniture or office equipment that does not meet safety standards and causes injury.
Unsafe work environment – If cleaning or maintenance companies negligently fail to provide a hazard-free workspace, they could create a condition that causes an accident.
Construction Industry Accidents
Alpharetta construction projects are often a part of the cityscape. Different situations can result in third-party liability claims.
Falls from heights – If an employee falls on the job, a third-party contractor or manufacturer could be responsible for the faulty scaffolding or equipment that caused the fall.
Equipment malfunctions – If a piece of equipment injures a worker, the equipment manufacturers or maintenance companies can be held accountable for defective machinery or negligent maintenance.
Falling objects – Sometimes, negligent loading practices by other parties can cause falling debris, injuring employees.
Related Page: Alpharetta Construction Accident Lawyer
Retail and Service Sector Accidents
Whether at North Point Mall, Avalon, or a roadside location, Alpharetta has many retail and service businesses. Employees working in retail and service jobs can suffer work-related injuries due to a third party's negligence.
Slip and fall accidents – If the business property owner or a cleaning company fails to maintain safe premises for the tenant business and its employees and a worker is injured, they could be liable.
Burns and scalds – If you were injured working in food service, perhaps the suppliers of faulty kitchen equipment or cleaning chemicals caused your injuries.
Cuts and lacerations – Sometimes defective cutting equipment or utensils can cause an employee serious injury.
Violent incidents – In a larger shopping center, the owner may have inadequate security measures for the premises, leading to an employee suffering from a violent incident.
Manufacturing and Logistics Accidents
Alpharetta, Georgia, is home to various manufacturing and logistics companies. Jobs in those industries can have some unique third-party liability work-related injuries.
Machinery accidents – Manufacturing and logistics employees often use heavy machinery or cutting machinery. If a defective machine or negligent maintenance causes serious injury, an employee can file a third-party liability lawsuit.
Chemical exposure – Chemical suppliers or contractors responsible for hazardous materials can be responsible for injuries those chemicals cause if they were used as intended and caused harm.
Explosions and fires – If a workplace explosion or fire causes injury, the liable parties could include suppliers of faulty materials or negligently designed safety equipment.
Transportation and Delivery Accidents
Some transportation and delivery employees can suffer job-related injuries that third-party negligence causes.
Vehicle accidents – If a worker was driving for work and a negligent driver caused an accident that injured them, they could have a third-party liability claim.
Loading and unloading mishaps – If a worker for a cargo company got injured when a third party negligently loaded cargo on or off a truck, they could have a claim.
Let a Work Injury Lawyer from Jonathan R. Brockman, P.C. in Alpharetta Handle Your Third-Party Litigation
Even if you have already filed a workers' compensation claim, it may not be too late to pursue a third-party liability claim. To learn whether you have a third-party liability claim, retain a Georgia litigation firm like Jonathan R. Brockman, P.C.. Our work injury lawyers in Alpharetta have years of experience with personal injury lawsuits.
Contact Jonathan R. Brockman, P.C. today at 678-213-2401 for a free consultation about how our legal team can help you get the money you need after an Alpharetta work injury caused by someone else.
Related reading: