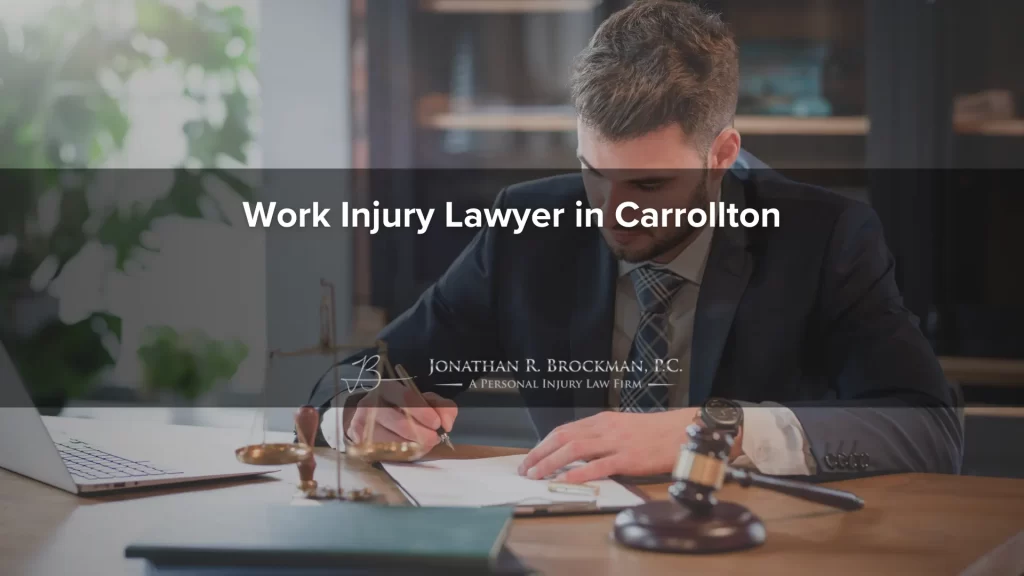 At Jonathan R. Brockman, P.C., our passion is helping you pursue your third-party liability claim. Our objective is nothing less than securing the most comprehensive compensation attainable for the injuries you've sustained. Sometimes, that involves more than a workers' compensation claim. Call our work injury lawyer in Carrollton at 770-205-0933 for a free consultation about your case today.
Choosing the right attorney after a workplace injury in Carrollton is important. You may think an attorney focusing only on your workers' compensation claim would be best. But, there may be more to your case than just a workers' compensation claim, and opting for a lawyer who exclusively handles workers' comp and does not litigate personal injury court cases may limit your compensation.
If a third party caused or contributed to your injuries, obtaining complete compensation may mean holding them accountable, too. Seeking a claim against a third party lies beyond the boundaries of the conventional workers' compensation process.
The Difference Between Workers' Comp and Third-Party Claims
Workers' compensation claims address one aspect of workplace injuries, while third-party liability claims address another; they undergo separate proceedings and provide different compensation types.
You usually can't sue your employer if you're injured at work. In most situations, you can only file a workers' compensation claim. This claim can cover your medical bills and a part of your lost wages. The cause of your injury doesn't affect the claim, but there's a cap on the compensation you can receive.
But if someone else, not your employer, caused your workplace injury, you could sue that other person or company. This lawsuit is called a third-party liability suit. If you win, you could get more money than you could from workers' compensation. You can pursue compensation for medical bills, lost wages, emotional distress, and pain and suffering. If you're hurt at work, there are different ways to get help, depending on what happened.
Causes of Injuries that Could Lead to Third-Party Claims in Carrollton
Employees hurt at work in Carrollton, Georgia, may have third-party liability claims they can bring in court. Carrollton is part of the Atlanta metropolitan area that serves as a "commuter" town for many people who work in Atlanta. Still, it is also a growing city with thriving businesses and industries.
People who work in any of the various businesses operating in Carrollton can suffer severe and life-changing workplace injuries for which obtaining full compensation may require a third-party liability claim.
Industries in which people are injured while working include:
The retail and food service industry, where people work in businesses like Carrollton Crossroads and McIntosh Plaza. Slip and fall accidents, burns, and scalding are frequent in this industry.
Manufacturing and logistics companies, like Southwire, where people can be harmed in industrial accidents. Cuts, lacerations, chemical exposure, and machinery accidents often occur.
Residential and commercial construction. Falling objects and equipment malfunctions are responsible for many accidents in this industry.
Related page: Construction Accident Lawyer in Carrollton
Types of Injuries in Carrollton Industrial Accidents
Many types of injuries happen in the workplace. While not all are catastrophic, many can become so. If someone other than their employer harms a worker, they can file a third-party lawsuit to get the compensation they need to restore their lives.
Burns and scalds
Working with or near hot liquids, solutions, or surfaces exposes a worker to the risk of burns or scalds. The most serious of these injuries can be life-threatening.
Neck and spine injuries
Whether a negligent driver operating a vehicle struck the injured worker or they slipped and fell, these injuries can lead to limited mobility or even complete paralysis.
Cuts and lacerations
Employees using malfunctioning cutting machines in kitchens or for packaging can suffer severe injuries. The companies that made or serviced those defective machines might face accountability for the injuries.
Chemical exposure
If a worker uses chemicals and exposure injures them, the resulting condition can devastate the rest of their life.
Blast injuries
The results of a blast can be devastating for workers caught within the blast zone and include blast lung, middle ear and tympanic membrane rupture, abdominal perforation and bleeding, ruptured eyes, and traumatic brain injury. All of these conditions can have permanent ramifications for the injured worker.
Traumatic brain injury
Whenever someone is struck on the head or engages in violent activities, like falling from heights or being hit by a vehicle, they risk traumatic brain injury. TBIs range from mild concussions to hematomas or damaged brain tissue that require surgery to repair or remove.
Related page: Brain Injury Lawyer in Carrollton
Compensation Available in Third-Party Claims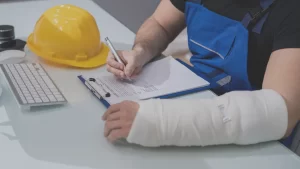 An injured worker may pursue compensation for economic and non-economic losses in a third-party lawsuit. Economic losses have a specific dollar value attached, such as medical bills or receipts for travel expenses. Non-economic losses are intangible losses that are more subjective, such as pain and suffering.
In a third-party claim, you could pursue compensation for:
Medical expenses
Anxiety
Depression
Post-traumatic stress disorder
Loss of enjoyment of life
Loss of consortium
Read more: Tracking Medical Expenses After an Accident
Speak to a Work Injury Lawyer in Carrollton About Your Third-Party Claim
Even if you've already filed a workers' compensation claim, you can still retain a litigation team and pursue a third-party liability lawsuit. Talk to a skilled Georgia law firm like Jonathan R. Brockman, P.C. to see if you have a third-party liability claim. Our Carrollton personal injury lawyers are ready to help.
We aim to help injured workers get all the money they need. Sometimes, this means we have to take legal action against others who were responsible for the injuries. Our talented legal team supports you through this process and protects your rights.
Don't hesitate to contact our work injury lawyer in Carrollton at 770-205-0933 for a free consultation. Together, we can determine whether a third-party liability claim is the right step to get you the full and fair compensation you deserve.
Read more: