Bicycle Accident Lawyer in Cumming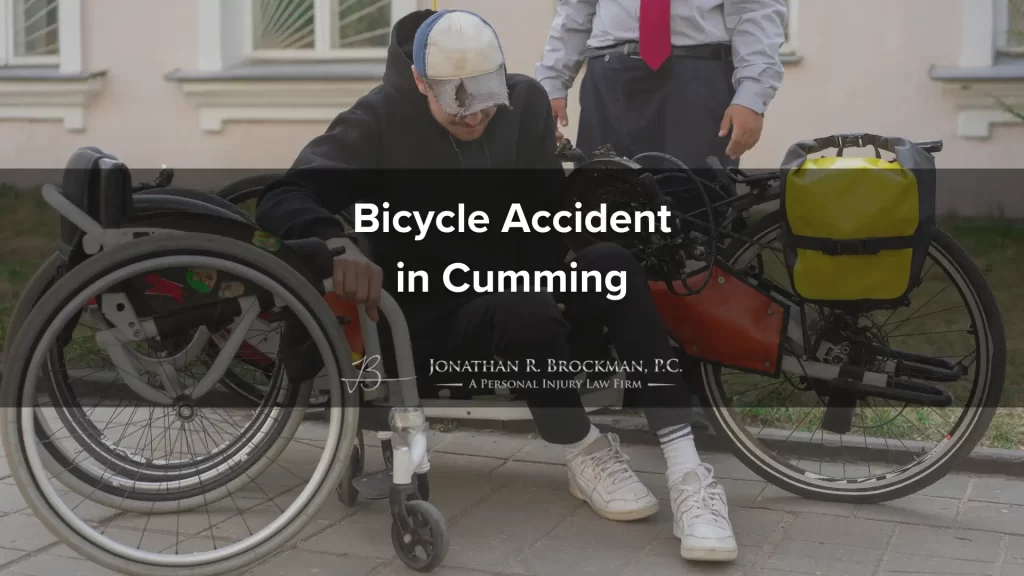 Bicycle accidents can be traumatic, often causing costly and life-altering injuries. The financial burden of a bicycling accident can be overwhelming from medical bills to lost wages. Realizing someone else caused the accident and your injuries can intensify your overwhelming feelings. It's important for injured bicyclists in Cumming to know they have legal rights and options.
Handling a bicycle accident claim is easier with an experienced Cumming bicycle accident lawyer. If you were injured in a cycling accident in Cumming, Jonathan R. Brockman, P.C. can help. Call 770-205-8827 today for a free legal case review or more information.
Common Bicycle Accident Injuries
Bicycle accidents can cause devastating injuries, including:
Head and Brain Injuries: These injuries can occur whether or not you were wearing a helmet. They from mild concussions to more serious traumatic brain injuries (TBIs) that require long-term medical treatment and rehabilitation.
Spinal Cord Injuries: Cyclists in serious biking accidents have a high risk of spinal cord damage, which can lead to partial or complete paralysis, numbness in limbs, and difficulty with mobility.
Broken Bones: Broken bones are some of the most common injuries in bicycle accidents and can range from minor fractures to severe breaks requiring surgery or immobilization.
Soft Tissue Damage: Soft tissue damage, such as strains and sprains, is also common in bicycle accidents.
Internal Injuries: The impact of a bicycle accident can also cause internal organ damage, leading to internal bleeding and other serious health complications.
Road Rash: When a person comes off their bicycle and slides along or is dragged along the pavement, their skin is abraded in what is commonly called road rash. These injuries can be so severe that skin grafting is required to help the tissues heal correctly.
How a Personal Injury Lawyer Can Help
If you suffered injuries from a bicycle accident, you might be entitled to compensation for your injuries and losses. The claims process can be difficult and time-consuming, but an experienced Cumming personal injury lawyer from Jonathan R. Brockman, P.C. can help.
A bicycle accident lawyer can guide your claim, communicate with insurers, and protect your rights. They can also help you calculate how much compensation you should receive.
Finally, a personal injury lawyer can represent you in court if you can't agree with the insurance company, and your case must go to trial.
At Jonathan R. Brockman, P.C., we understand the complexities of bicycle accident claims and have the experience to help you get the compensation you deserve.
The Types of Compensation You May Be Entitled To
You may pursue compensation for losses from a cycling accident caused by a negligent driver. Types of losses you may be eligible to recover money for include:
Medical Expenses: Medical expenses related to the injury may include hospital bills, ambulance fees, medication costs, rehabilitation and physical therapy expenses, and future medical costs associated with the injury.
Lost Wages: If you cannot work due to the accident, you may qualify to receive compensation for lost wages. This includes any income you would have received if you had been able to work during that time and may also include loss of future earning ability due to the injury.
Pain and Suffering: Physical pain and mental anguish you experienced because of the accident and is a compensable loss.
Property Damage: You might be able to recover compensation for the cost of repairs or replacement.
Common Causes of Bicycle Accidents
Many factors can lead to bicycle accidents in Cumming. Frequent causes of cycling accidents include:
Vehicle driver inattention or negligence: Drivers often engage in distracted driving or fail to obey the rules of the road, which can lead to serious accidents involving cyclists.
Bicycle defects: Faulty bicycle parts or systems could lead to accidents due to mechanical failures.
Driving under the influence: Drivers under the influence of alcohol or drugs pose a major risk to cyclists on the roads.
Reckless behavior: Drivers who speed, drive erratically, or engage in other risky behaviors can cause accidents with cyclists.
Unsafe road crossings: If drivers fail to yield at intersections and crossings, they can endanger cyclists.
Steps to Take After a Bicycle Accident
You can take certain measures to protect your health and interests after a bicycle accident. They include:
Seek medical attention: Even if you do not feel injured, it is important to seek medical attention as soon as possible after a bicycle accident. This step ensures that you are protecting your health and creates documentation that you sought treatment for your injury immediately after the accident.
Contact the police: If the accident involved another vehicle, contact the police so they will attend the scene and create a police report.
Document the accident: Take pictures of the scene, get contact information from the at-fault driver and any witnesses, and write down details about the accident.
Contact an attorney: A bicycle accident lawyer can help you understand your legal options and maximize the value of your claim.
Do not sign anything: Do not sign any documents or accept settlement offers from insurance companies without consulting a lawyer.
Stay off social media: Even though you may want to reassure your friends and family about the outcome of the accident, the insurance company can use anything you. It is best to stay quiet until the resolution of your case.
Contact Jonathan R. Brockman, P.C.
After you were injured in a bicycle accident caused by someone else, the Cumming bicycle accident lawyers of Jonathan R. Brockman, P.C. can help you pursue justice and compensation for your losses. With more than 70 years of combined legal experience, our lawyers understand the laws surrounding cycling accidents in Georgia. We fight to recover compensation for your injuries and losses and provide personalized and compassionate service to each client.
Contact us today at 770-205-8827 for a free legal consultation.
Related reading: