Pedestrian Accident Lawyer in Carrollton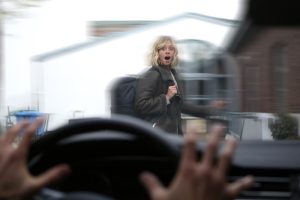 Nearly everyone is a pedestrian at some point. Whether walking to work or school, jogging for exercise, or simply going to or from your car, you sometimes need to get from place to place on foot. When you are walking down the road or crossing the street, you have a right to expect that drivers will be watching out for you. However, it is common for drivers to be unaware of pedestrians' presence. If you're a pedestrian and an accident occurs due to the driver's negligence, call a pedestrian accident lawyer from Jonathan R. Brockman, P.C. immediately.
If a negligent motorist hit you, you must consult with an experienced attorney that specializes in pedestrian accidents as soon as possible. The skilled lawyers of Jonathan R. Brockman, P.C. have over 70 years of combined experience helping injured Georgians secure the compensation they deserve. We have the knowledge and the resources to handle every aspect of your case. We will take on the paperwork, discussions, negotiations, and legal legwork of crafting a case while you focus on your recovery.
Call us today at 770-205-0933 or contact us online to learn about your legal options.
What to Do After a Pedestrian Accident in Carrollton
You will be in a lot of pain if you are seriously injured in a pedestrian accident. However, there are important steps you can take, if possible, that can help protect your rights and your claim.
Document and save any evidence you can from the accident – The evidence that may help your claim includes photos, a written account of the collision, contact information from witnesses, a copy of the police report, and any communications from insurance companies.
Seek immediate medical treatment and listen to your doctor's order – If your doctor gives instructions on treating your injuries, you must listen to them and follow through. This will not only help you to heal more quickly, but it will also make it more likely that your personal injury claim is taken seriously. Furthermore, be sure to save all of your medical bills and receipts.
Maintain a journal of your pain after the accident – While going through the healing process, it can be difficult to maintain clarity about your experiences as the days, weeks, and months pass. Keeping a detailed journal of what you are feeling and experiencing each day can help you recall how your injuries have affected your day-to-day life.
Avoid social media posts about the accident or your injuries – If you share information publicly about your case, the at-fault party might be able to use it as evidence to undermine your claim.
Consult with a pedestrian accident lawyer – An experienced legal professional from Jonathan R. Brockman, P.C. in Carrollton can help you understand what to expect in your case.
How the Attorneys at Jonathan R. Brockman, P.C. Can Help You
It is common for people to believe they can handle a claim on their own after being involved in a pedestrian accident. However, dealing with insurance companies can be incredibly tricky without the assistance of a trained personal injury lawyer. The attorneys at Jonathan R. Brockman, P.C. have many years of experience observing the tactics of insurance adjusters. Too often, we have seen them take advantage of injured people who have tried to handle claims themselves.
When you retain the services of Jonathan R. Brockman, P.C., we will:
Inform all parties involved that we will be working as your representative from now on
Conduct a swift and effective investigation to gather evidence about the accident
Work with your medical team to understand how your injuries have come about and what they mean for you
Advise you on your options for compensation
Manage the paperwork, forms, and other claims documents, so you don't have to
Negotiate on your behalf in any settlement discussions with the insurance companies
Take your case to trial to fight for maximum compensation if negotiations do not lead to an acceptable settlement
Pursuing Compensation for Pedestrian Injuries
The pedestrian accident lawyers of Jonathan R. Brockman, P.C. in Carrollton will pursue the resources you need for your physical and financial recovery. Your compensation could include money for:
At-home care and medical equipment
Transportation and accommodation costs if you need to travel for treatment
We will also fight for compensation for your noneconomic losses, such as:
Pain and suffering
Disability and disfigurement
Loss of enjoyment of life
Insurance companies are interested in minimizing payouts to the greatest degree possible, so don't count on them to provide you with an accurate assessment of what your case is worth. Our pedestrian accident attorneys will fight for the full and fair compensation you deserve.
Time Limits for Filing a Pedestrian Accident Lawsuit in Georgia
In general, you have two years from the date of an accident to file a pedestrian injury lawsuit in Georgia. It is important to remember that investigating the collision, identifying all sources of compensation, and documenting the full extent of your losses can take more time than you might expect. Consult with an attorney immediately to protect your rights after you have suffered an injury due to another party's negligence.
Common Causes of Pedestrian Accidents in Carrollton
The most common causes of pedestrian accidents include:
Distracted drivers
Intoxicated drivers
Failure to yield
Inclement weather
Speeding
Poor visibility
Contact an Experienced Pedestrian Accident Lawyer
If you suffered injuries in a pedestrian accident in Carrollton that wasn't your fault, contact the seasoned personal injury lawyers at Jonathan R. Brockman, P.C. today. Our attorneys have built a reputation of excellence across Georgia, and we have the knowledge and resources to fight for you. Furthermore, we do not charge any fees until we recover a financial award for you.
To learn more about your legal options and how we can help, call us today at 770-205-0933 or contact us online for your free consultation.